Sunshine Jones Biography
Sunshine Jones
TUOC, Adult Contemporary, OH!Stockholm, Treehouse Muzique, DeepSite, Cosmic Disco, King Street/Nite Grooves, Defected, Imperial DUB, Dubtribe Sound System, Sunday Soul
This is so old, and most of it is irrelevant. I've done so much since 2013… like a north american 100% analog live tour, a couple of european live/dj trips, taught myself how to solder and start building synthesizers, a series of free seminars across north america teaching people all about how to play live, and how to look at analog musical gear and get started, and more… I'll re write this soon, I promise.
Sunshine Jones lives in San Francisco, California where he produces a playlist, essay and a piece of artwork every sunday based on a theme called Sunday Soul, and produces house music for King Street Sounds, Nite Grooves, from the Treehouse Recording Studio. His label, Treehouse Muzique has been a private place to release re edits, and introspective recordings as well as a home for the Dubtribe Sound System back catalog of albums, singles, and live recordings.
Over the last few years, Sunshine has traveled the world spinning and performing live. Loop's 9 year anniversary in Tokyo was a fantastic beginning for his solo work, which has taken him to Sugar in Adelaide, Australia, up the coast to Byron Bay, and Brisbane. The Family Music Festival in Osaka where he played beside Danny Krivit was inspirational, and The Metamorphose festival in Tokyo, where performing for 16,000 people completely blew his mind.
Sunshine spent the 1990's touring the united states in a van as one half of Dubtribe Sound System, and as creative director of Imperial DUB Recordings. He left the 90's glad to see them go, but worried about the decade ahead. The turn of the century saw the end of his long term partnerships with IDR, and his musical partner Moonbeam. After working with BMG/Jive, and Defected Records,
Sunshine took a long break. He discarded his associations, and tried to raise his son in a halcyonic state of idle in a San Francisco suburb. When that proved to be impossible, sunshine searched his soul, and wrote seven tracks in seven days, an exercise intended to purge himself of the bullshit which was crushing him. I worked pretty well, and the album was released on King Street in 2006.
In early 2007, frustrated with the limitations of CD turntables, and the confused pile of hand scrawled CD's all over his house, Sunshine made the move to mixing with a laptop. Using a Allen and Heath XONE:92 DJ Mixer to connect a mic and some effects, and a MacBook Pro running Traktor DJ Studio Pro, Sunshine found he was excited about mixing records again. "I haven't been this excited about music since I first learned how to program a sequencer." And it shows. No stale, up-tempo computer mixes for you… Sunshine has been challenging what dance music even is, often never raising the tempo above 118 bpm, he uses musical force, live vocals, live percussion, loops, and effects rather than simply beating the crowd to death with something fast or hard. Difficult and provocative as always,
Sunshine has eaten his hat and embraced the modern definition of independent music and it's current format.
From the start of 2007 Sunshine has been a monthly resident at Love in New York City, a quarterly resident at Club Five in Washington DC, and reforging his relationships with friends from all over the US. 2007 brought inspirational trips to Florida where he blew the Plazma Lounge apart, and rocked Paradise with Jask of Thai Soul. He also performed at Muzique modern with Moby, Kudu and King Britt at the Highland Ballroom, Hosted the devastating Sunday Soul NYC: Voice and sang with Jenifa Mayanja and Monique Bingham and brought down the house, rocked the rooftop of club five with Sunday Soul: Unlimited where he played for 5 hours + under the stars for a crowd of cheering and deeply beautiful people.
At year's end, Sunshine Jones insists that despite the relative collapse of dance music as a main stream head bashing, these are inspirational times. The music coming out of France, Norway, Sweden, Germany, New York, Los Angeles, and Japan is absolutely some of the best music ever produced in the genre of "house."
Solo Album Releases: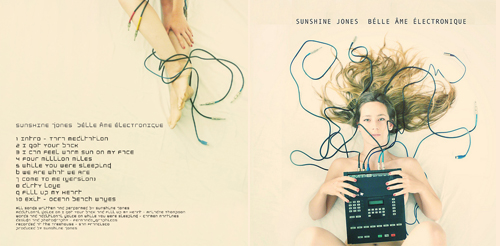 Sunshine Jones Bélle Âme Électronique
2013 Release on King Street/NiteGrooves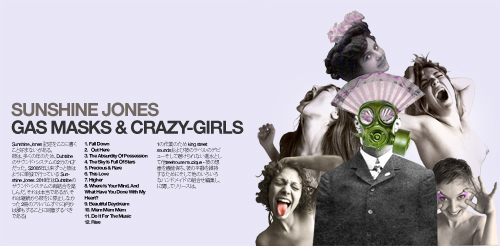 Sunshine Jones Gas Masks & Crazy-Girls
2013 Release on Cosmic Disco
Sunshine Jones Seven Tracks in Seven Days
2009 Release on King Street/NiteGrooves
Check out the flash player album preview at King Street
Sunday Soul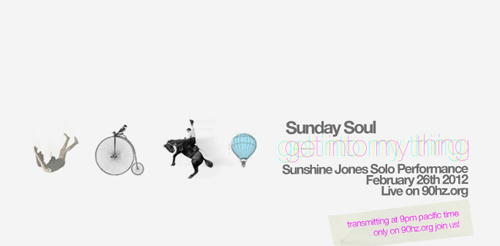 For 11 glorious years Sunshine transmitted a weekly radio program on
90hz.org
called
Sunday Soul
from 10pm until late night (pacific time.) The shows were based each week on a theme, and announced in the 90hz forum, facebook and other community gathering places. While not always a perfect example of Sunshine's club performance, they are a look into the musical soul of a house legend, and deep-headed music lover.
Sunday Soul was also a traveling party. Monthly in New York City at Love, and quarterly on a rooftop somewhere in Washington DC, occasionally from various places all over the world.
Find out more at sundaysoul.com. While there Sunday Soul is no more, there are many playlists from the last year, and a handful love live archives there for you to dig.
Sunday Soul Archives
There are hundreds of of hours of Sunday Soul archival transmissions. And as many beautiful posters and essays as there were transmissions. There has been some talk of compiling a book, and distributing the archives freely. Nothing has, as yet been decided.