SUNSHINE JONES
THE URGENCY OF CHANGE, OH!STOCKHOLM, ADULT CONTEMPORARY, TREEHOUSE MUZIQUE, COSMIC DISCO, DEEPSITE,
KING STREET/NITE GROOVES, DEFECTED, IMPERIAL DUB, DUBTRIBE SOUND SYSTEM, SUNDAY SOUL, SAN FRANCISCO
Sunshine Jones has been an active member of his ever expanding community since 1988. A voice in electronic music, Sunshine is a founding memeber of Dubtribe Sound System and has travelled the world for more than three decades performing live, improvisational electronic music anywhere and everywhere there is love, and art, and people willing to gather and dance, or lay back and listen.
A central piece of Sunshine's philosophy has always been DIY. Do it yourself. Assaulting ideas like "someday" and "commodity fetishim" through the heart of a poet, and the mind of a situationst his radically inclusive music, words, and their recording, documenting, and presentation are always aimed at asking us to reflect upon ourselves, and to stand up, and get to work.
Love is the message. Nothing else is real. Sunshine does more than most, and is always working, building, recording, designing, producing, and performing. He travels the world playing live improviational electronic music without stopping. His ever growing body of work include 14 studio albums, more than 125 singles, thousands of live performances, poster art, web design, tehcnical manuals, DIY electronics classes, an 11 year running digital transmission from wherever he is in the world called Sunday Soul, interviews, classes, the odd DJ set for fun, and a travelling seminar called the PLAY LIVE! Seminar where Sunshine creates community in the destination city, gather all walks of live to rally around the idea that electronic music is a viable, vital, and valid art form which can (and should) be free of the shackles of the mobile phone, and the computer. Free of the prerequisite notion that we need a thousand dollar appliance to produce music, people are inspired, and as empowerd by his seminars as they are from his spoken word, written word, photography, graphic design, recordings, or live performances.
For a little more about Sunshine Jones in the present tense, have a look at the recent documentary about him:
HOME The Official Document of the 2016 Sunshine Jones Live Ground Tour
A Martha Traer Film
http://theurgencyofchange.com
Password for viewing is: FALLINLOVENOTINLINE
And read up on the 2016 LIVE GROUND TOUR and PLAY LIVE! Seminar HERE
Solo LP Releases:

Sunshine Jones
HOME
2018 Release on The Urgency Of Change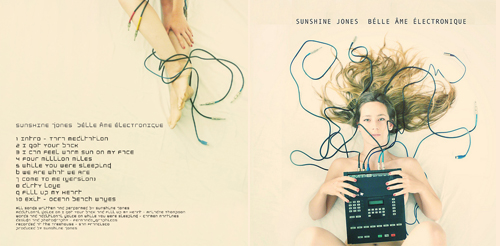 Sunshine Jones
Bélle Âme Électronique
2013 Release on King Street/NiteGrooves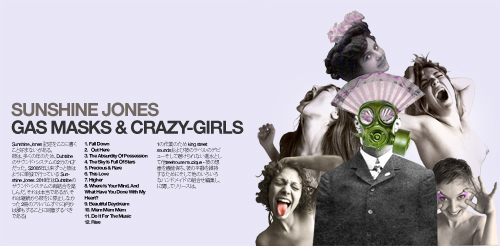 Sunshine Jones
Gas Masks & Crazy-Girls
2013 Release on Cosmic Disco
Sunshine Jones
Seven Tracks in Seven Days
2009 Release on King Street/NiteGrooves
Sunday Soul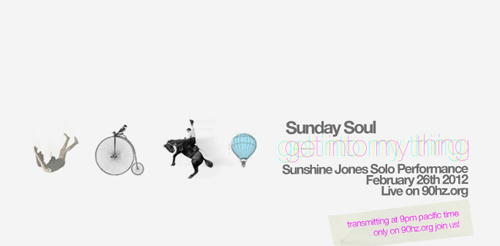 For 11 glorious years Sunshine transmitted a weekly radio program on
90hz.org
called
Sunday Soul
from 10pm until late night (pacific time.) The shows were based each week on a theme, and announced in the 90hz forum, facebook and other community gathering places. While not always a perfect example of Sunshine's club performance, they are a look into the musical soul of a house legend, and deep-headed music lover.
Sunday Soul was also a traveling party. Monthly in New York City at Love, and quarterly on a rooftop somewhere in Washington DC, occasionally from various places all over the world.
Find out more at sundaysoul.com. While there Sunday Soul is no more, there are many playlists from the last year, and a handful love live archives there for you to dig.
Sunday Soul Archives
There are hundreds of of hours of Sunday Soul archival transmissions. And as many beautiful posters and essays as there were transmissions. There has been some talk of compiling a book, and distributing the archives freely. Nothing has, as yet been decided.