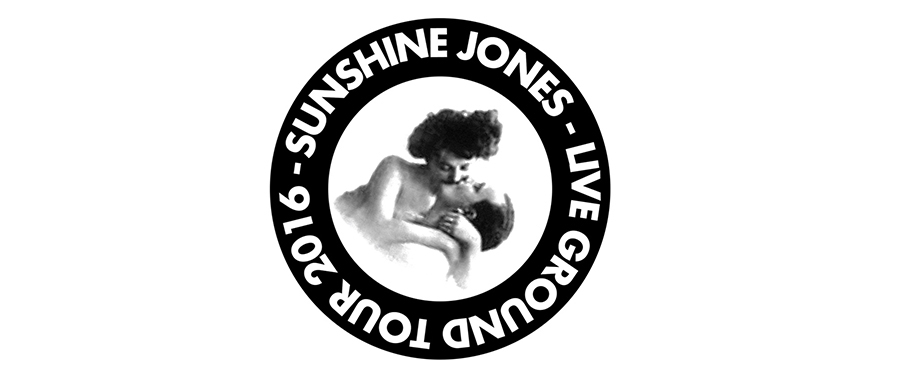 IN THE TIME LEADING UP TO NOW
From 1991 until 2005 Sunshine Jones was on the road. The first gig outside of the legendary Dubtribe house was at a storefront on Haight Street in San Francisco. The first booking was from a guy named Paul who was at one of the monthly parties – he was standing there in the middle of the front room dance floor trying to find the DJ. I was watching him as he realized that there was no DJ, that the music everyone was dancing to was bring made live and it was a beautiful thing. He begged us to play for him, and so we agreed that we'd come to his club and perform. But before that, our friend Perry asked us to come up to his storefront and play. So I packed up everything, and I mean absolutely everything, and drove it up to the upper Haight and set it all up in his shop Housewares and played a 3 hour set. The first gig for Paul went even better than that. Then the guys at Spundae offered me a residency and it was on… Urb wrote about my band, and we piled into a van and drove to New York City. The rest of that story is essentially undocumented history. You just had to be there.
The best thing about playing live, aside from the experience itself has always been the mind-blowing nature of defying people's expectations. I will never forget being in the middle of a live set at Family Groove in Los Angeles in 1992 and this woman in a fur coat was marching back and forth between the staircase and the DJ booth looking for the DJ. She looked really upset. Finally she leaned over to me and shouted "Where IS the DJ?!!" and I said "I'm performing live right now." And she huffed back into the DJ booth, and then back to me and shouted again "Where is the DJ?" and I smiled and said "I am playing live right now." and she leaned over to better yell into my ear, and actually stopped the sequencer and shouted "I just want to know if any Janet Jackson is going to be played here tonight, otherwise I am going home!" and it picked up on my microphone, and everyone in the club roared and cheered and she looked up, and looked around looked so confused. So I said into the microphone "You guys wanna hear some Janet Jackson?" and the crowd went completely mental. So I pressed play on the sequencer, and everyone got down, even the woman who was going to leave if no one was going to play any Janet Jackson.
For the next 10-12 years I traveled around the world with all my gear, setting up on the floor, in the dark, on a mission to express that everyone is a star, and the dancer is the most important one of all. Anyone can create rhythm, melody, words and sounds. I sat down on the floor of record shops, electronics stores, and cafes to host seminars where I demonstrated how plugs, and sync, and midi and synthesizers work together to create music. Eventually I began bringing drummers and other musicians with me to further demonstrate that all music counts, and purity is a matter of perspective, and intention. On the floor of a Tower Records in New Orleans I sampled the hand drumming of a heckler who was offended by my SP-1200 and wrote a riff and performed it right in front of him and made that very tough audience dance, and understand.
Ease and convenience, distraction and re performance have become the tools of today. This isn't entirely bad, in that we have taken the post production tools and made stutters, and filtering an art in and of itself. There's a lot of inspiration to be taken from the tools in our hands. But still my heart wasn't satisfied. After September 2001 it became very difficult to travel with equipment. I tried, and each time I tried I was stopped, strip searched, delayed and missed flights, missed gigs, and it was pretty clear that something had to be done. So I took a closer look at digital techniques, and the world of computers. This allowed me to get where I was going without a TSA agent buggering me, but it wasn't the same. It wasn't as much fun. I set my efforts to mixing, and began traveling all over the world performing what I called a live/dj set. That meant I would mix mostly my own music, but also sing live, and add the songs I loved by my brothers and sisters and heroes. It's been a great decade of proving that 110-120 beats per minute are revolutionary tempos, and force is more powerful than speed. I've almost always been able to find a place between what the audience expects and what I want to tell them and bring everyone together. Not that I've ever really been a main room thumper – I leave that to DJ Pumpy-Pants and people who are more concerned with things that are "big" and I've devoted myself to the disenfranchised, the lost, the lovers and the lonesome. I have always felt that the Larry Levan school of house music was the truth, and so I am no more shy about playing pure techno than I am about laying down a disco track. The truth is the truth, and when you're in the mix, anything goes. It's what I love most about house music – it's practical application as opposed to it's intention, it's sedentary conventions, or rules. Because what happens in the moment, between the musician and the dancer can change everything instantly. That's beautiful. That's real. I love that.
About a year ago I was leaving San Francisco with much of my digital gear to head to Death Valley, Joshua tree and New Mexico to record, and complete work on my fourth solo album and take a quiet look at the pre production for the forthcoming Dubtribe album. Before I even got out of town my rental car was jacked. I was in the bank for 9 minutes and the window was smashed, and all my gear was gone. I lost it all. Fuck I was gutted. Totally ruined. People were so sweet, and so supportive and kind, but nothing could replace what I'd lost. All my records, personally digitized and then given away, all my music, works in progress, pre production, maters, everything… gone. In the quiet of my grief I took a moment and reflected. Nothing could really be this bad. So what did I want? Did I want to replace my computer, try to replace my music, to re construct what was already accomplished? No. So I asked myself "When were you last most happy? When were you last most productive as an artist?" and the answer was instant – when I was playing live and using physical devices.
Now it's time to hit the road again. These are inspirational times. There has never been a better time to be an electronic musician. Little tiny devices from my wildest dreams are being manufactured in Detroit, Los Angeles, British Columbia, Pittsburgh, and all over the world – new and better ones are arriving every day. These little sound making boxes and modules are changing everything. And I'm really excited. So I've put a little rig together, and I'm packing it up and heading your way. I'm starting in San Francisco, my hometown, and performing my first 100% live electronic set in nearly a decade. I'm not going to play anything from my back catalog, so there is no Dubtribe revival in the set, I am instead going to stop at every modular boutique, every record store, and every gathering place I can find and set up, and start up a dialog with anyone and everyone who is interested in lighting ourselves on fire with live performance, electronic music, modular electronics, and modern synthesis and sequencing techniques. And in every city I get to , I will perform. I am available for DJ sets, live/dj sets along the way if it's more appropriate, but the main event is this new, 100% live performance. The show is 2-3 hours long (or longer) and the idea is to take everyone on this adventure with me.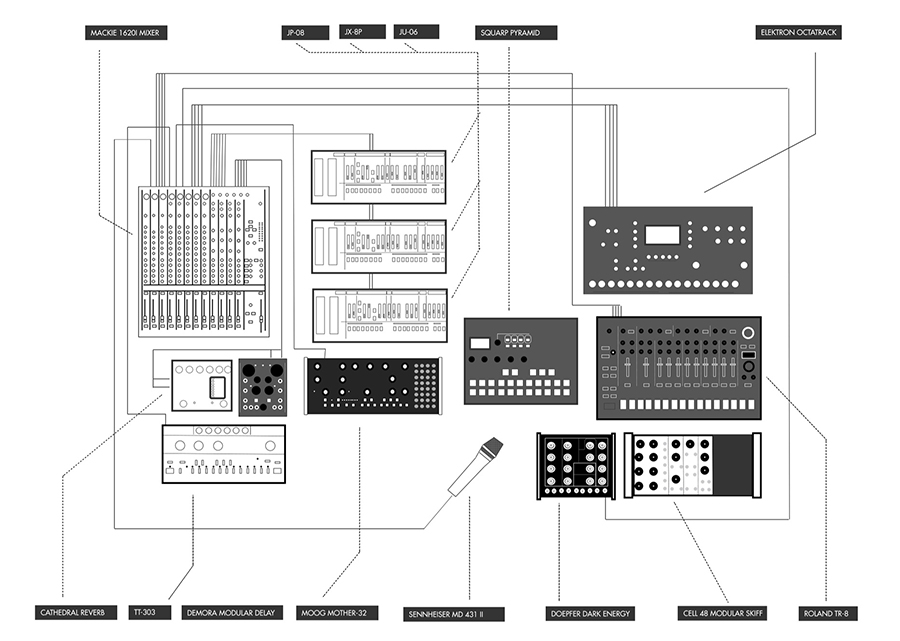 THE EVENTS
The shows themselves are all about connection. So I'm offering up three different things for the tour:
1. THE LIVE SET
A bonafide 2-3 hour live performance.
Drum machines, synthesizers, modular patches, and sequencers all blurred together in a series of beautiful lights to produce deepness, rhythms, and pulses and live vocals and more. Seamlessly mixed together completely live.
This can be set up along side a DJ setup, in the DJ booth perhaps, or down on the dancefloor in front of the people. But I will be standing for this tour, not sitting down as I have in years past. I can mix into the opening DJ like another tune, or I can start the night and do the whole adventure.
A word about the expression "live pa"
I have always absolutely hated this term. What does it mean? Does it mean a live public address? To my mind it's a hold out term from the UK rave scene which the US and Canada adopted early on to try to seem more British. It doesn't mean anything, and it's kind of offensive.
I am offering you a live performance, a live set, an actually authentic live electronic music performance… it's not a pubic address, and it's not a pair of speakers. So please, don't call it a "live pa" – let's call it what it is – a live performance.
2. LIVE/DJ SET
This is a staple of the last 10 years of my life. I mix and I sing and it's awesome.
3. SEMINAR
On the floor, where appropriate, or on a larger work table, I set up my live rig and demonstrate, and discuss. Answer questions and promote dialog with all involved. The idea is to open a conversation which will not stop, and inspire people to make music, to play live, and to try things they may not have known they wanted to do, or were perhaps afraid to do before.
This means that you and I will reach out to modular boutiques, music stores, and record shops and try to coordinate some sort of meetup where this can happen. We'll promote it separately, and do it as fuel for our fires, to help personalize and energize the event we are doing together.
And so what's hoped for is arriving in a destination, and playing a DJ set or two, hosting a seminar in a local modular boutique or record shop, and then play a live set at the main event. Killer. Lots of time together, lots and lots of love.
TOUR DATES
I'm leaving San Francisco in late March and not coming back until late May. The plan is to travel up through the Pacific Northwest, down through Los Angeles, and south of LA. Then over to Denver, and down into the southwest, and Texas. Then to cut across the south and deep down into Florida. From there I'll head north and follow I95 up through Atlanta, the Carolinas, DC, Baltimore, Philadelphia, NYC. Then up into Canada for Montreal, Nova Scotia, Toronto, Ottowa, and then drop down into Detroit, Chicago, Cleveland, Pittsburgh and wind up in May, right back where I started in San Francisco.
Naturally this route and the specific dates will shift and change as I need to be flexible in order to get where I'm going, and make the scene where I'm needed and wanted. Right now nothing is booked. There is some excitement and there are dates being offered and discussed. Obviously I won't be able to make every single one of these cities, or spend the amount of time each place deserves, but I am giving each leg a minimum of two weekends so that everyone can get their friday and Saturday nights as needed. But please understand this: I want to be in places on Sunday – Thursdays where there are modular boutiques, electronic music shops and record stores so that we can get together and have seminars and demonstrations of live performance and electronic music. These seminars are the very heart of my intentions, bringing the dull internet thread based on capitalism into the real word for open conversations and practical examples. More than just promotion, or building excitement for these live sets, I want to help to inspire, to rebuild, and to connect.
BOOKING & CONTACT
I am not working with any agent or agency in particular to handle the details of this tour. It's possible that I may very well recruit the assistance of capable, and wonerful people to lend a hand in the midst of chaos and road fatigue, but I've almost always done my own booking, so this probably won't be an exception.
email
sunshine@treehousemuzique.com
face-page
facebook.com/sunshine.jones.love/
Once we have come to an agreement we can connect more closely to better coordinate and stay connected along the way.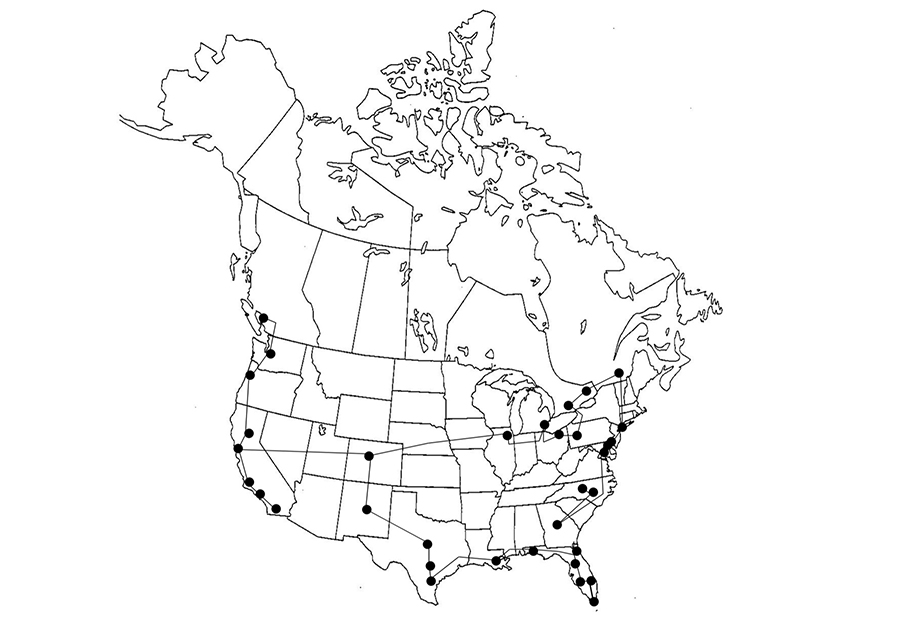 Booking this tour is simple, and I'm booking it now. Reach out to me and let's connect. I will send you the tour prospectus, and a humble little live song that Martha and I recorded. I think you'll dig it, and we can get our heads together about what's next and how to get together.
I want to get everywhere people want me to be. I want to play for as long and as deeply as the people's hearts and feet will allow.
I understand that some events are massive and there is a suitable budget and I can ask for more than this.
I also understand that some cities have barely got it together, and even after 25 years there's no public support or enthusiasm for underground electronic music. In these places my heart shines brightest, and I want to make it work.
I encourage you to talk with me. Open your hearts and let's make the right things happen in the right places with all the love we can gather and make some magic.
Ya gotta talk with me if you need help, or want me to collaborate with you. If you don't ask, I'll never know and we'll miss each other and I just hate that.
C'mon!
MEDIA ASSETS
Here are some media assets for your community and promotional purposes.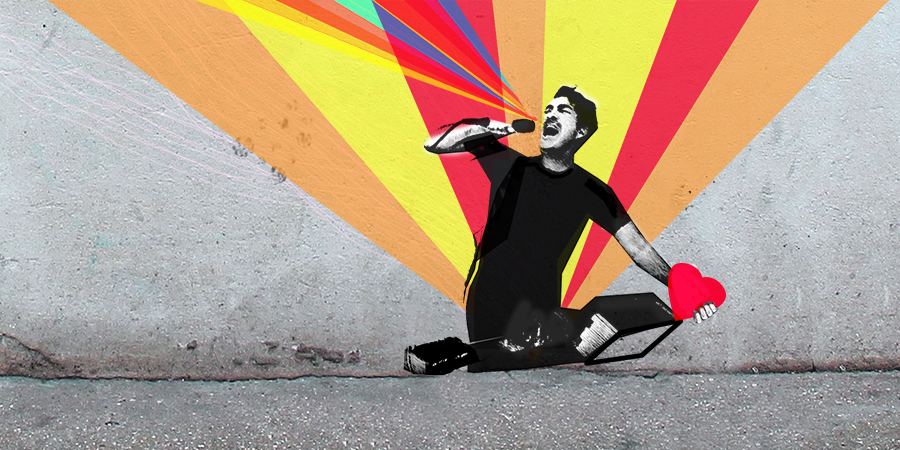 Create this collage/stencil art with either a large format printer, or any well inked home printer.
1. Print and Paste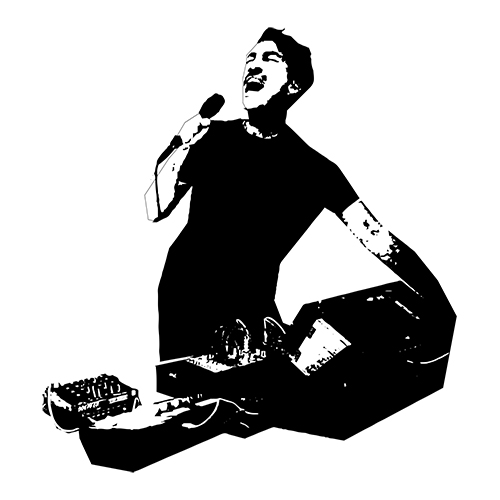 Figure (me)
72″ x 72″ TIFF file with two layers
Download
Print with multi page feature from your printer and cut and tape them together for mounting with wheat paste
Or print from a large format printer and trim around the outside edges.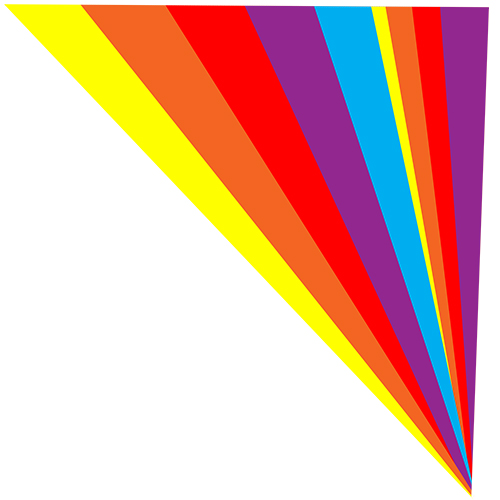 Prism
72″ x 72″ TIFF file with two layers
Download
Print with multi page feature from your printer and cut and tape them together for mounting with wheat paste
Or print from a large format printer and trim around the outside edges.
With these two files printed and trimmed they are ready for wheat pasting up onto any appropriate wall.
2. Stencil and Paint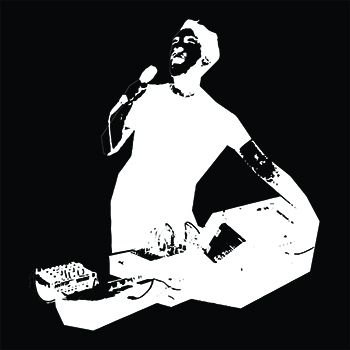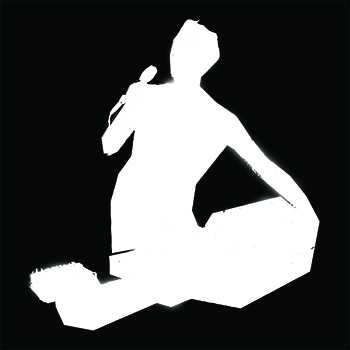 A. Print and tape the images together to create the whole image.
Cut out the black areas until you have a stencil that looks good to you.
B. Print the figure file again, and cut out the entire shape of the image (second layer of the file)
This will give you a well masked area for painting the background of the stencil.
C. For the prism, rather than printing the paper, mask off your prism with tape and spray each color separately.
With this technique you can create your own coverage, and choose your own colors. My example (above) is both taped off paint and wheat pasted paper. Looks pretty good.
Permission & Promotion
While I believe in renegade street art as a beautiful and amazing form of social revolution, you might get caught and have some trouble. I don't want that to happen to you, and I also don't want to hear from the authorities asking why my art is up on some disgruntled capitalist pig's wall. So wear a mask, and don't sign your name. Do this for love. People who know will know, and they'll love it. People who don't know may get curious and open their minds. That's why we are here. It's why we do what we do. Be safe. Bring love and courage with you.
PRESS PHOTOS
Here are two photographs for you that I took, and worked with in order to produce remarkable images which I feel best represent me to the world. They are a brilliant reflection of who I am, and what it feels like to experience me.

MIRROR
300 dpi jpg
DOWNLOAD

MODULAR HEAD
300 dpi jpg
DOWNLOAD
TOUR POSTER
Here is a tour poster for you. Feel free to change the type to accommodate your specific date.
It would also be pretty cool if you also printed out a few of the general tour dates as well.
I Suggest:
Print the 2 up 11×17 version to make a unique sized poster, and add your specific date to the bottom by attaching a brightly colored extra square with your night's details on it. This makes for a remarkable poster, collectable and unique.

2 Up 11 x 17 Tour Poster Tiff
DOWNLOAD
OR you can simply grab the large 11 x 17 poster and go wild. It's true that a larger poster is easier to read and often grabs all the attention on a telephone pole. They look great in shop windows too.
Full Size 11 x 17 Tour Poster Tiff
DOWNLOAD
SEMINAR POSTER
Naturally we're going to need a separate type of promotion for the seminars. We'll need something which will stand on its own and make sense in modular boutiques and synth shops which connects with people who may not already be planning to come to the event we are putting together. The idea is not to slip these into the hands of every nerd you meet, but rather to encourage people who are genuinely interested in learning, and participating in an open conversation about live electronic music, modular synthesis. With some good fortune, each one of these seminars will be unique, and we will all grow as the result of them.
Here's a poster/flyer I've made up for you to add your seminar's date and time and location to and put up wherever you feel is appropriate. They may also help you to secure the right spot to host it. You can print out the 11 x 17 poster as well as a 4 up flyer sized print for better hand to hand connection, and leaving behind as well.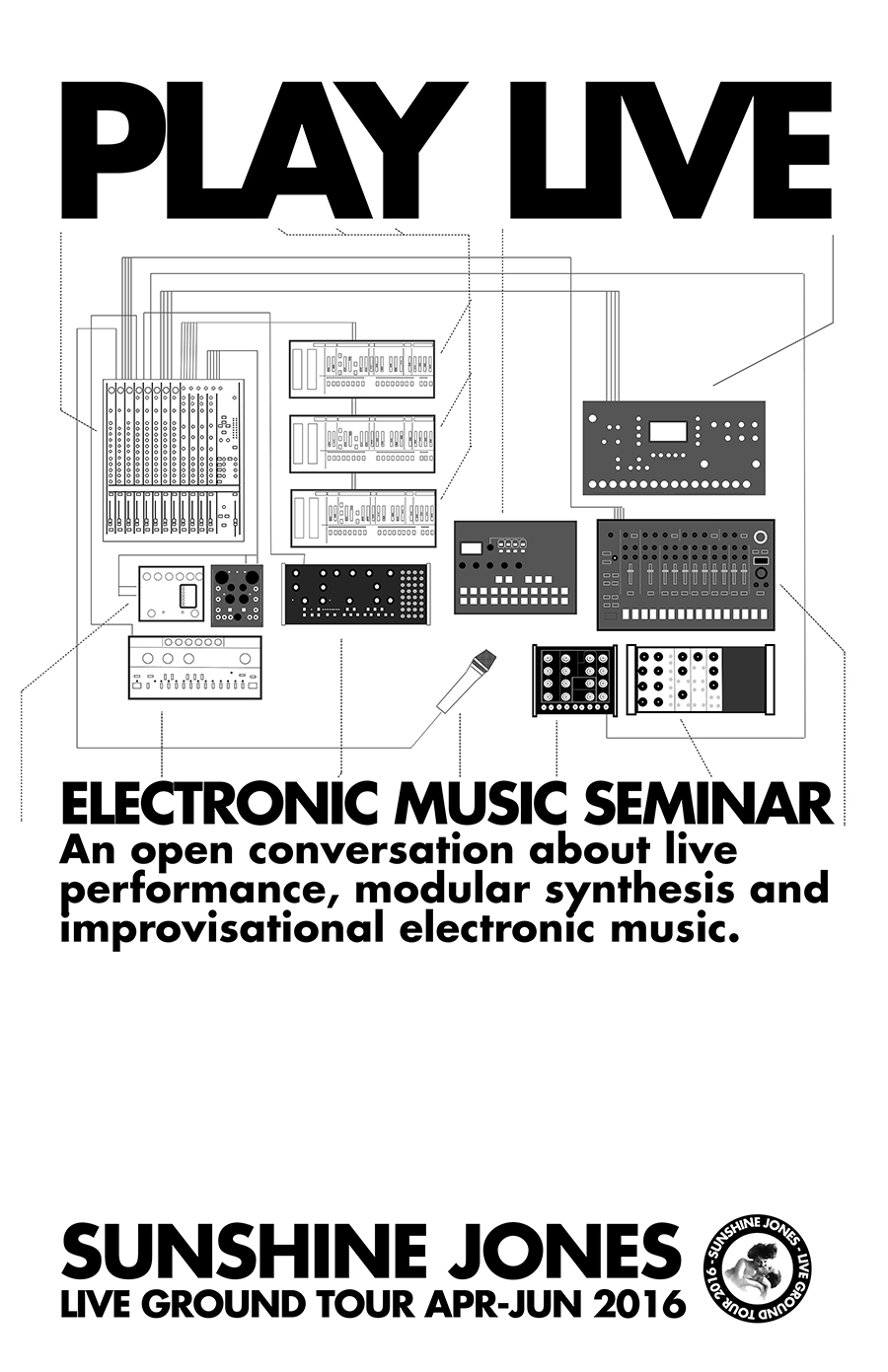 Full Size 11 x 17 Seminar Poster Tiff
DOWNLOAD
Full Size 11 x 17 4-Up Seminar Flyer Tiff
DOWNLOAD
VIDEO
If for whatever reason the video doesn't actually load and the above area is blank, just reload and it'll show up
ART INSTALLATION EVENT FEB 12
PRE-FLIGHT TEST EVENT – Folding Space in PDX March 19th
TEXAS EVENTS – HOUSTON, SAN ANTONIO, & AUSTIN April 1st, 2nd & 3rd
BRITISH COLUMBIA – VANCOUVER & VICTORIA April 14-16th
SEATTLE – SEMINAR, PARADISE, FLAMMABLE April 22-24th
DENVER – GLOBUS DJ SET, SEMINAR, AFTER-HOURS LIVE SET April 27-29th
SAN DIEGO EVENT – May 1st
NORTHERN CALIFORNIA – Nevada City, San Francisco – May 6-8th
LOS ANGELES – Analogue Haven, We Own The Night, Distantbeat – May 12-15th
MINNEAPOLIS – Clubhouse Jäger, Slam Academy, Chez Lambert – May 20-21st
OMAHA – House of Loom, Seminar at Drips, Afterhours at Drips – May 28-29th
CHICAGO – June 1st – 2nd
AKRON WAREHOUSE PARTY – June 3rd
WASHINGTON DC U Street Music Hall – June 10th
PHILDALPHIA THE SHAKEDOWN – June 11th
NEW YORK – June 4th – June 14th