intellijel Tetrapad Cheat Sheet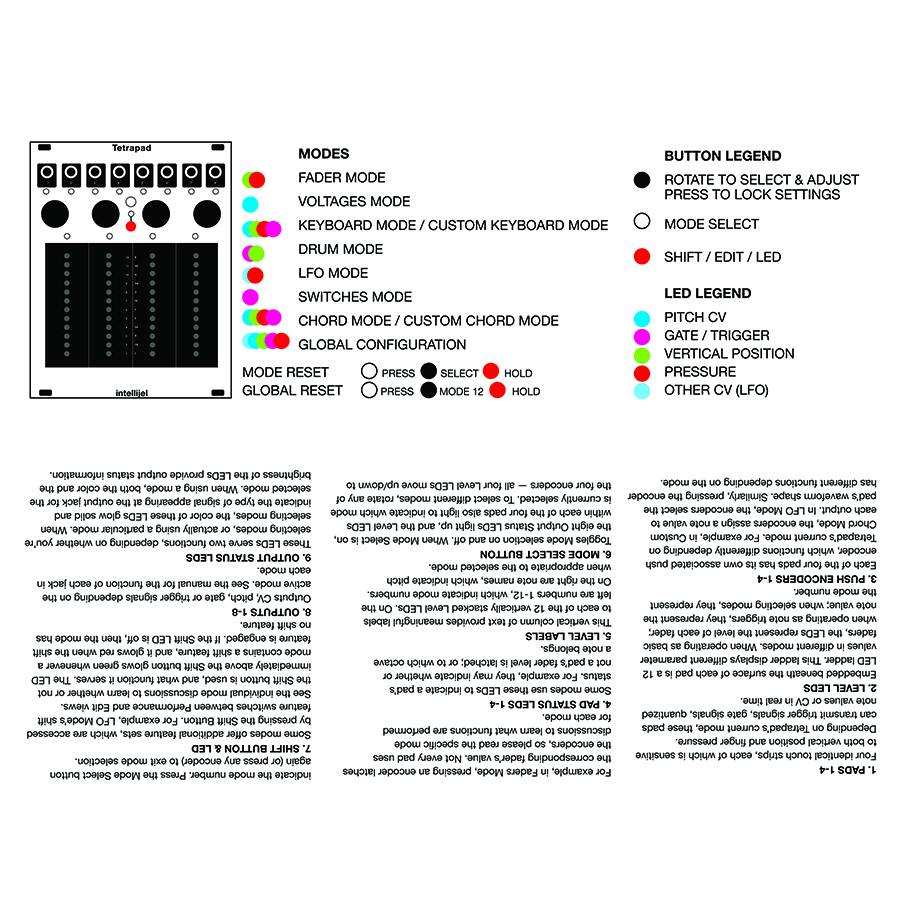 Sunshine Jones – intellijel Tetrapad Cheat Sheet
DOWNLOAD
PDF FORMAT DOCUMENT 5.5″ x 11″ SIZE – 1/2 of a standard letter page, horizontally – 6 MB
NOTE: BY DOWNLOADING THIS FILE, OR EVEN GRABBING THE JPG (BECAUSE THAT'S REALLY STILL DOWNLOADING ISN'T IT) YOU ARE AGREEING THAT THIS IS A FREE DOCUMENT. IT MAY NOT BE COPIED, REPRODUCED WITHOUT CREDIT, AND IT MAY NEVER EVER EVER BE SOLD, TRADED. THIS WAS MADE FOR EVERYONE, FOR FREE, AND SHALL AWAYS BE FREE.
IF YOU CAN'T AGREE TO THIS PLEASE DON'T DOWNLOAD THIS FILE. IF YOU CAN AGREE TO THAT, THEN PLEASE ENJOY!
I've created a little cheat sheet for helping learn the intellijel Tetrapad eurorack module.
It's just a simple way to keep the basics of what the modes are, what the lights mean, and how to clear out the settings at our fingertips without having to print out the pdf version of the manual (so many pages) until we memorize these basic functions.
It's strange isn't it? I seem to have been the anti-leaflet author, and yet here I am producing little Eurorack leaflet cards as helpful guides. I do love a good, old school manual. But sometimes having a quick reference card beside me is very helpful while I'm gathering a little muscle memory for how to use a module, and what the little lights all mean.
It's also true that making these guides, and re writing manuals is another part of how I learn and remember. So this helps me a lot. I hope it helps you too.
LOVE