Welcome February…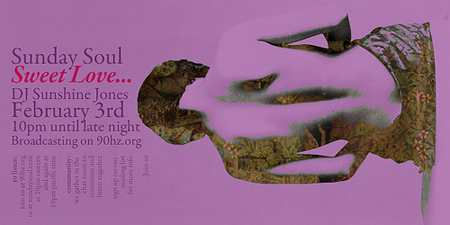 This sunday, February 3rd brings back my favorite dance party in the world. Sunday Soul returns and this week the theme is Sweet Love….
Chosen in honor of a remix I'm just about done with by a wonderful band called Melou of their fantastic song by the same name (I added the three dots after to be mysterious.) I've been rocking all night in my studio, grinning and dancing and have hardly gotten anything done. I can't wait to mix it down, and put it into context for you.
Sunday Soul starts at 10 pm eastern time (-5 gmt | 7pm pacific) and repeats (most of the time) at 10pm pacific time. Sometimes I'm so into it that I just keep going.
To tune in visit 90hz.org We get together in the chat room at 90hz and hang out for the show. See you there!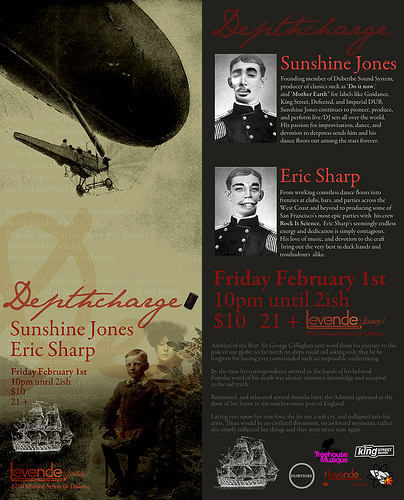 Friday February 1st, Eric Sharp and I are going to try something new, slightly silly, very groovy, and fun at Levende Lounge in San Francisco. The place is beautiful, warm, has a great sound system, and you can come early for dinner because the food is superb.
As the evening's last turn is over, Eric Sharp will begin with our theme of broken disco, and spaced out house… the tables will be put away and make room for a life preserver, budding roses, victorian dresses, and captain's jackets.
At about 11:30 or so I'll step up to the decks, and perform a live-dj set. My plan right now is to start somewhere around 'Bring back the love' and end up somewhere around Equitoreal. Then I'll bring it home. As has been the case lately, when I play live I am as comfortable with performing Dubtribe classics as I am staying true to my heart's arpeggiates and belle âme electroniqué and lay down a proper Sunday Soul style get down. It really depends on how many friends show up, and how comfortable I feel. I've never played the Levende Lounge before, but I have played for Ben (the owner) at Second Sunday and had a blast. Feel free to bring your sunglasses, and a dozen roses… bring whatever you want… but let's get down and have some fun, k?