TUOC-016T EMS SYNTHI AKS Ltd. Edition T-SHIRT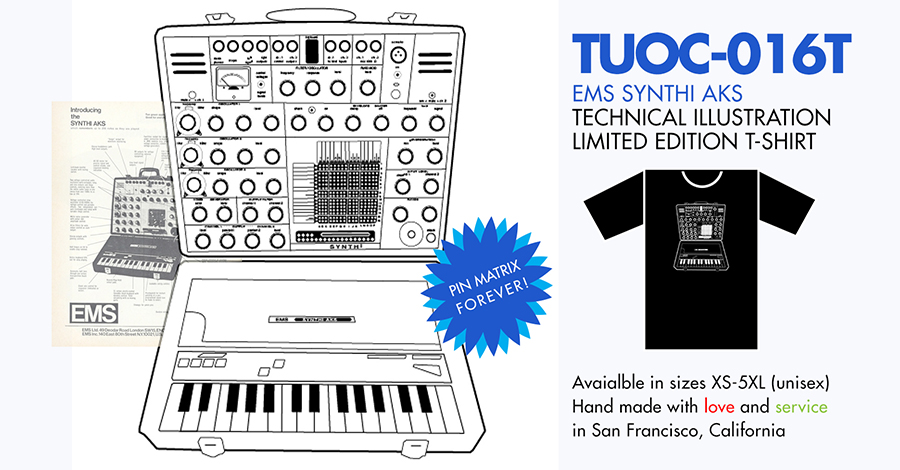 TUOC-016T // SYNTHI-T
EMS SYNTHI AKS TECHNICAL ILLUSTRATION T-SHIRT
PRE ORDERS NOW OPEN
This is a limited edition, hand made run of a technical illustration made of the mighty EMS SYNTHI AKS synthesizer.
Released in 1971 the SYNTHI A and AKS are essentially the same instrument at the VCS3 but rather than being enclosed with wood and keys added, the AKS was housed in a briefcase style enclosure. The AKS had a sequencer and touch plate keys embedded in the bottom cover. The instrument "patched" it's elements by way of a marvelous pin matrix – a board with pins (like battleship) which allowed for the connection and distribution of voltage through it, between it, and among it. Uniquely analog sounds, and capable of just about anything. One of the finest, most unique instruments produced to date.
We love all things EMS, and the SYNTHI so much that we thought it was time to commemorate it and celebrate it's gorgeous complexity.
This illustration was drawn by Sunshine Jones in an project to reproduce the original EMS 'SYNTHI EDUCATIONAL HANDBOOK' into a nicely printed, well type set book for people interested in such things – the handbook is a primer on synthesizers, and a terrific education for all (not just owners of the SYNTHI A or AKS) but the interest in such a book was poor, and it made the production costs much too high to take seriously. So in lieu of a cool book, we thought we might repurpose the drawing and let everyone who'd like to wear one of these gorgeous instruments around so we can find one another.
Pre-Order your beautiful T-shirt right here
LOVE