Sunshine Jones @ The Gathering 19th Anniversary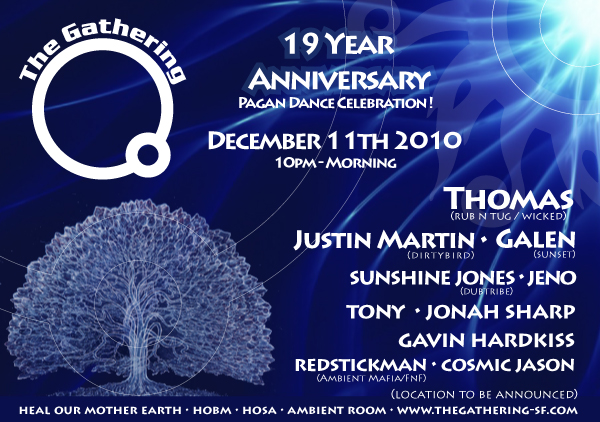 December 11, 2010
Brothers and sisters old and new!
The time has come – the power is ours to break the walls that divide us. We all know that life can be so distracting from what is truly important, and sometimes what's truly important is to leave your cares behind and gather together to have fun with your friends and family dancing in celebration of life. The kind of celebration that fosters smiles, eye contact, happiness, hope, love, fun, and unity. The kind of unity that you take back into your daily life, making the world a better place for as long as you can hold onto that fresh feeling.
Think about it – for how long and in how many different ways have our ancestors been dancing to music in celebration, in sorrow, in community? Since the first beat, someone moved their feet, felt different and went with it. Now eons later, we are getting ready to gather our community – our family old and new – to dance in celebration of life in our own time captured unique way – the rave way.
Our celebration will be a happening of magic, fun, and a little mystery. The location is very special to our gathering family, and will remain secret until the last minute. But we will say that it is a local spot to SF.
This Gathering is ONLY for the positive.
Music… We've assembled the finest collection of DJs you could ever hope for. World-class sonic storytelling magicians await your auditory experience of infinite dimensions and possibilities.
Thumps…. Thomas (Wicked / Rub N Tug) Justin Martin (Dirty Bird)
Galen (Sunset / Dirty Bird Records) Jeno (Wicked / Noise From The Void)
Tony (The Gathering / Funky Techno Tribe) Sunshine Jones (Dub Tribe)
Not so thumps…. Gavin Hardkiss (Hardkiss / Hawke) Jonah Sharp (Spacetime Continium) Cosmic Jason (Come-Unity)
Redstickman (Ambient Mafia/FnF)
Visual stimuli onslaught…. The power of psychedelic art will be unleashed by: Mark Johns (Slide N Spin) Donovan (Psychedelic Momentary Light Capturing Society) Mike Matel (Psychedelic Art for the Nomadic Soul)
Earth Connections… Fairy Earth Energy Connections and Altars offered by Goddesses Melanie & Anne
Nourishment… Our brother Dana (The Provider) will serve an organic ambient breakfast, and we encourage you to stay and chill and chat with your brothers and sisters in the morning.
Participant Responsibility… Take care of your brothers and sisters at this gathering, which includes strangers… make a new friend… express yourself fully… tap into the LOVE vibration
History…
In 1991, the Gathering parties were born. Malachy (Come-Unity), Tony (Pieces), Kenny & Harry (Destiny), and Martin (Eklypz), met and the circle was now complete. We were four small parties joining as one to try to bring the scene together for a massive party. During the first meeting Mal busted out a Hopi Indian prophecy book with the passage…..
Hopi Indian Prophecy for 1991 (The year of the first Gathering):
For those who stay here on Grandmother Earth, They will totally gain the light of the great light wheel. There will be one humanity, one planet composed of all the different ways of dancing in complete harmony in the great gathering together circle. In 1991 the seeds will be planted….
Malachy reading this out to us all was a moment I wont attempt to describe in words but to say at the very least it told us we were on the right path… circles, gathering, 1991 prophecy .. and the half an e we were on helped to :-). And as they say, the rest is history.
Back then the whole scene had no director, or creator, it was just happening and we were all along for the ride.
********
Peace & Love, & please help us spread the word.
The Gathering Family
********
Blessings… Blessings on our brother Bam Bam, as he passed way earlier this year. We will be dancing in his, and the honor all the others we have lost along the way.
esbb eswh esds esjm esll escl esm esymcc esgob esa hobm hosa home
********
Movie…
Martin & Jeno are making a film about our rave culture here in SF. We are focusing on the magic and transformation of the early 90s, and what made it so special. The energy we created back then is now manifesting itself into existence by drawing the people it needs to make it come to life as a film that challenges general misperceptions, and the stereotypical view that so many people have of our community. And that's just for starters. No other film has captured, or even attempted to capture the culture – they have all focused on the music, DJs, producers etc. Our film will capture the essence of our culture and community, both good and bad, and look at the social impact that we have had so far with our global efforts.
Please join our group on Facebook so we can let you know details…
http://www.facebook.com/group.php?gid=140331816004851&ref=ts