Sunshine Jones – PLAY LIVE! Artist Residency Seminar San Francisco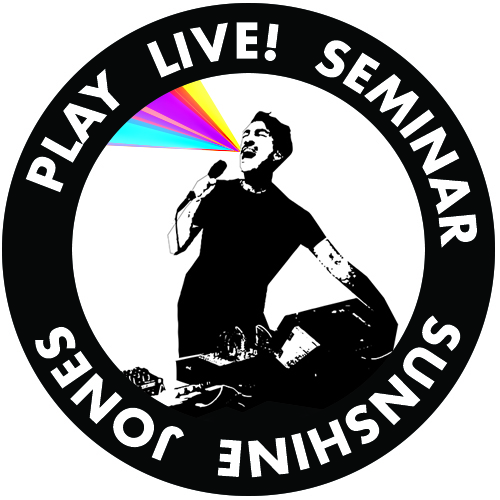 January 4th – February 15th 2020 in the basement of a beloved San Francisco night club.
We will gather on 5 Saturday afternoons and connect, talk, and discuss the concepts of live improvisational electronic music.
SESSION 1 – JAN 4th – INTRO/OVERVIEW and history plus a demonstration and an extended Q & A based on the member's personal needs, questions and skill level. Here is where we discover what this course will really be about, and how it will go. Are we just begining? Are we almost there? What's up?
SESSION 2 – January 11th – ELEMENTS – We will look at modern vs vintage gear, and discuss their virtues and hassles, what's really needed to construct a track? The opinions/criticism/respect of others. What about broken gear, self repair, tech mentorship, return authorizations, soldering irons, gear accumulation syndrome (GAS), borrowing money to buy gear you can't afford, shopping locally vs the internet, the ruse of "free shipping" and why the best synthesizer in the world is the one that's in front of you.
SESSION 3 – January 18th – SEQUENCER – We will take a look at a few different types of sequencing. Analog, digital, and how does this relate to sequencing? Laptop vs stand alone, song/track mode vs pattern vs real time arrangement.
An in depth look at live musical construction and how to perform without feeling like you're playing back things you created at home, and how to bring new life, and new joy to a performance.
SESSION 4 – January 25th – SPACESHIP – Here we will discuss how to assemble the basic rig of a live performance – sync, midi, thru, cv/gate, control, and connections between our instruments. How does it work? How does it all fit? How does one get from one place to another without paying through the nose for baggage fees? Do you leave it set up? Do you ever clean it? How does one manage all of these elements and put them all together, take them apart, and make changes?
SESSION 5 – February 15th – SHOWCASE – Yep, I am playing Feb 15th in the Basement of Monarch in SF for The Garden Party with my man Benjamin K. McCarthy but before I do, members of the seminar will be invited to gather, and each take a turn playing a song or two (depending on the number of people) upstairs in the living room at Monarch. The club will be open, and people will be there and it will be amazing… everyone will have a chance to play, and illustrate what we've covered and how you have made this course your own.
REGISTRATION
$150 for the course. Message me here if you'd like to sign up. Class is limited in size, and when we are full the registration will be closed.
A crowd is awesome, and we love crowds, but for the best possible experience, this course should be limited so that each individual can ask all their questions, and we can have the best possible conversation and do the most good.
PLAY LIVE! I LOVE YOU
Hit me with a message right here if you're interested.
This seminar is officially TUO-09PLS and can be reviewed as such at The Urgency Of Change for your pleasure.
LOVE