Sunshine Jones – European Adventure 2014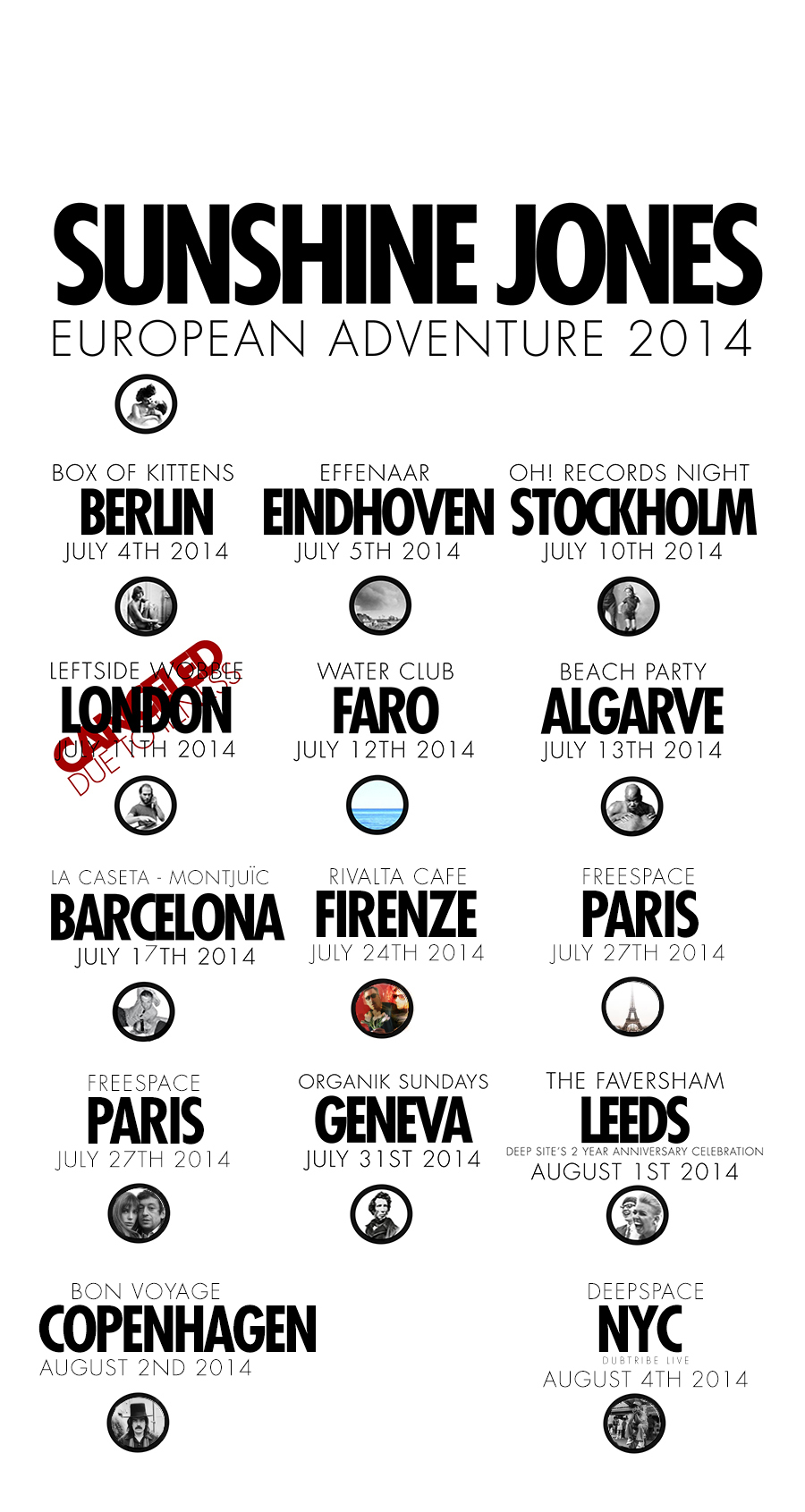 I dreamt last december of getting out of here and heading off into new territory to see what I could see. I reached out and talked with so many people about so many things and the fruit of that labor is this forthcoming adventure.
This isn't all the bookings, but it's a decent summary of what's confirmed or what I've most got my fingers crossed for. The rest will be added as I go, and I'll be sure to let you know here as it unfolds as well.
4 JULY 2014
BOX OF KITTENS – BERLIN
a 4 hour set in a beautiful outdoor spot with my friend DJ Hali from Toronto (now living in Berlin)
A great way to start this adventure… Here's the RA event invite
UPDATE
This party was absolutely amazing. Down in the basement of an abandoned machine factory, dark, free and brilliant. No red bull for sale (because it's too corporate,) and DJ's don't mix into one another's sets. The Berliner takes a little break between sets and starts again with their own thing. Dancers overflowing, no way in, and no way out, just throbbing and pulsing music, cheering and beautifulness. I loved Berlin so much that I'm headed back on the 19th of July for another gig and more.
5 JULY 2014
SPECTRUM – EFFENAAR – EINDHOVEN, NETHERLANDS
A set with Cosmic Disco's Zweistein, Deep Mouse, and Kleine Zaal
Here's a link to the Facebook invitation
UPDATE
This was the night The Netherlands played Costa Rica in the World Cup finals. So the party was more or less aborted for a huge screen and a football match. I did play a set, I kept my word, but it was a sports event and not a dance night. But my wonderful hosts Daniel and Willum were very supportive and kind and we quickly got out of there and headed for Amsterdam.
10 JULY 2014
OH! RECORDS – LABEL NIGHT – STOCKHOLM
This is just a get together for the heads at OH! Records in Stockholm. They've agreed to release my wonderful cover of the song "Same Mistakes" with some fresh remixes – Martha and I have already shot the video and are editing it now. So this is just a little get down night for us to get closer and connect. I don't have a link to an invite for it yet, but I'll post one when I do.
11 JULY 2014
LEFTSIDE WOBBLE – SIDE ROOM – LONDON
UPDATE
The July 11th Leftside Wobble event has been cancelled due to illness.
This is terrible news. Please send your love and light to Jonathan Moore – wish him a swift and complete recovery, and the next time you see a Leftside Wobble event going up in London – Go, Dance, Support! London needs you. xo
Leftside Wobble is a wonderful event in London, and this came about as a three way Facebook thread. Finn helped to connect us, and if I hear back from them then I plan to be there, and to get down with all my heart in the side room. No shame at all, I'm just glad to be going…
I don't have any more info than that just yet, but as soon as I do I'll post it here for you.
12 JULY 2014
WATER CLUB – FARO, PORTUGAL
Me and the heads from Water Club are going to get aboard this beautiful boat and hit the magnificent seas just off shore from Faro, Portugal and get down while the sun sets. Sounds like heaven to me…
Here's the Facebook notice
13 JULY 2014
BEACH PARTY – ALGARVE, PORTUGAL
The next day we are getting ourselves together and hauling it all out onto the beach an doing it all over again. I don't have the specifics for this yet either, but as soon as I know more I'll post them. This may be a locals event, but if you're in the area my suggestion is that you come to the Water Club and we will be sure and let you know all about the next day's beach bonfire event. I've seen pictures of how this goes down and it's amazing.
UPDATE
This is the night of the World Cup Finals. So we aren't going to have another EFFENAAR on our hands. Instead we are going to hang out and enjoy the beach and cheer along with everyone instead of going against something so dear and important to the Portuguese heads. This will be made up, if possible, later in the month.
14 – 18 JULY 2014
BARCELONA, SPAIN
July 15th is my birthday, and I plan to spend it in Barcelona with my dear friend Finn Campbell Notman of the Groovers, international illustration fame, and co-founder of imperial DUB recordings. We've been talking and talking about this for years, and one way or the other we are getting something together for this date, or the following weekend. It's vague, in true Barcelona form, but it's so radiant in my heart that I believe. I will post specifics once they're together. July 22nd is Martha's birthday… we are either going to be still in Barcelona, unable to leave Finn's beautiful side, or we will be safely back at home base in Copenhagen and celebrating with a baguette sausage from a street vendor and laughing in the Danish sun. It's also likely, based on how things are going right now, that we will be adding dates during this week.
UPDATE
Who knows what's going to happen this week, but I am sure it's going to be awesome. My brothers Victor and Ignasi are ready for a family reunion meal, and Finn has us set to play a set here and there as well as a possible hop over to Ibiza. I'm not concerned, and I know it' going to rule.
UPDATE
Addition to the adventure
Sunshine Jones and Finn Campbell Notman
Thursday July 17th
21h – 1h
At La Caseta on Montjuic
Barçelona
UPDATE
Addition to the adventure
Sunshine Jones and Finn Campbell-Notman
Sunday July 20th
Poolside at the W Hotel
17:30h – ?
Waterfront, Barcelona
24 JULY 2014
CAFE RIVALTA, FLORENCE, ITALY
ADDITION TO THE ADVENTURE
We have organized a little get down at Cafe Rivalta in Florence for the 24th. Gabriele Selvi and his compañero Lorenzo are welcoming Sunshine Jones, Portofino Sunrise, and Luca Gerlin to the cafe for a sunset party, and on into the night. I can't wait to see Florence, and to play there.
27 JULY 2014
FREE SHOW at FREESPACE, PARIS
Next we are off to Paris to connect with the Freespace people in France. I am doing a free daytime performance at the freespace location practically as soon as we arrive. I'll be available for Q & A, technical demonstration, and evening surprises as well.
28 JUlY 2014
Screening of the film FREESPACE with Q&A To Follow
On Monday we will screen the documentary FREESPACE – a collaboration between Martha Traer and I followed by a Question and Answer session at the Paris Freespace location. Times to be determined.
29 – 30 JULY 2014
BERLIN/HAMBURG – GERMANY
We may be headed back to Berlin for the night on the 29th, and possibly a trip back to Hamburg to get with Microstar. This is looking unlikely, it seems that "backtracking" is always requested, and exciting, but then it doesn't actually happen. I think it's good – to be somewhere and to connect and then to hit the road and promise to leave a little piece of my heart there, and return for it next time is perhaps a better idea than to try to make more happen right now. I'm open to it, but I think the wind always has other ideas.
31 JULY 2014
ORGANIK – GENEVA, SWITZERLAND
Stephane Joulin and his crew host a great sunday night event in Geneva, Switzerland called Organik Sundays, and I'm headed to Geneva to join them on the 31st of July for a special Thursday night deep session.
UPDATE
At the moment this looks like it's back on… I'll keep you posted about it.
1 AUGUST 2014
DEEP SITE 2 YEAR ANNIVERSARY – THE FAVERSHAM – MANCHESTER/LEEDS, UK
This one's really going to be special. I've mixed one of several CD's celebrating Deep Site Space's wonderful record label, and now I am going to show up in Leeds and play a live/dj set for them.
Joining me are Rory Cochran, Jay Robertson, Al Bradley, Loz Goddard, Martijn, and Jonny B. Two rooms of music and a night of celebration and get down. Facebook notice is here and tickets are available here
2 AUGUST 2014
COPENHAGEN, DENMARK
As a farewell, we are organizing a possible get together in Copenhagen for the last night of the trip. Ganga and I will get together and play casual sets, and connect as a finale to this magnificent tour. More details about this as they come together. I'd love to see you in Denmark!
There will be a few more surprises, and other dates added to this as we go, I will try to keep this page updated, or at the very least I will add things to this site so you can see what's cooking, but it's a little mind blurring with all the dialogs I've got going at once to coordinate all this. So far we haven't given up hope on Italy, France, Croatia, Hungary, Turkey, Ibiza, and more… but I don't want to tantalize you with things that may not actually go down. I will ad them if they come together, and only tease you with text you may not actually read here and now.
I can't wait to get out of here and start this adventure… c'mon!