Sunshine Jones 100% Live with the Mercury Soul Ensemble – June 14th 2019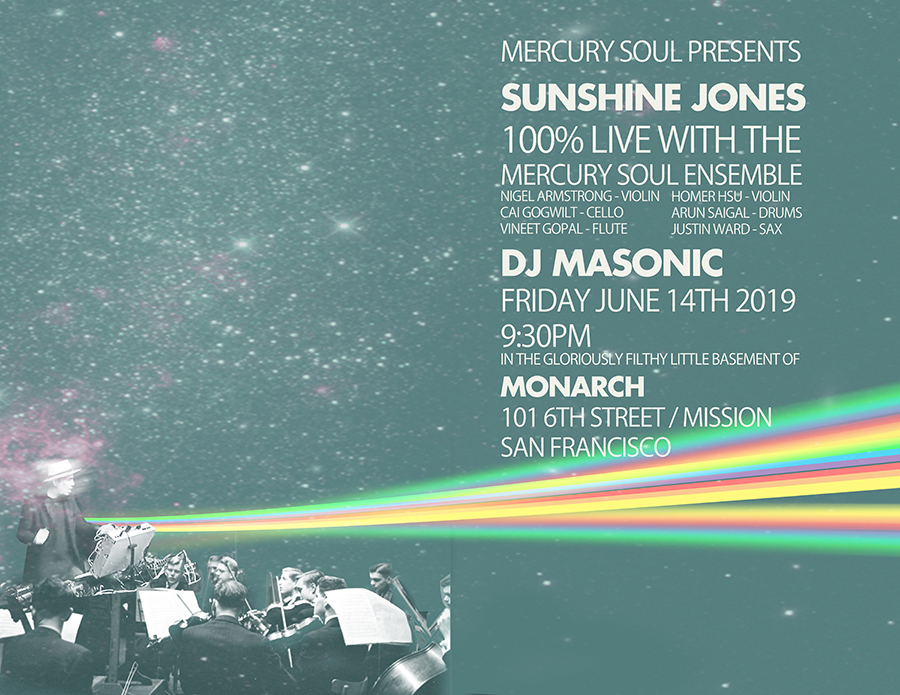 SUNSHINE JONES
100% LIVE WITH AN ORCHESTRA!!!
// Next Friday night – June 14th 2019
In the gloriously filthy little basement of @monarchsf (best place ever!) I am going to perform a live set with the mercury soul ensemble!
Are you fucking kidding me!!!???
Whaaat!!!???
It's true. Dj Mason Bates and violins, cello, flute, saxaphone, and Indian percussion.
Get the heck outtahere oh my god I'm so excited.
Program begins at 9:30
I will be playing selections from my album HOME, including some of the riskier, more delicate material, so you better get there on the early side.
Also, tickets are limited, so you might seriously consider scoring one or two in advance.
Dinner at the pawn shop, and an orchestral electronic experience after.
My mind is blown just thinking about it.
Here is the face-page event invitation if you need it.
See you there baby!