Sunshine Jones – 100% Live Performance – Wednesday June 29th 2022 – F8, San Francisco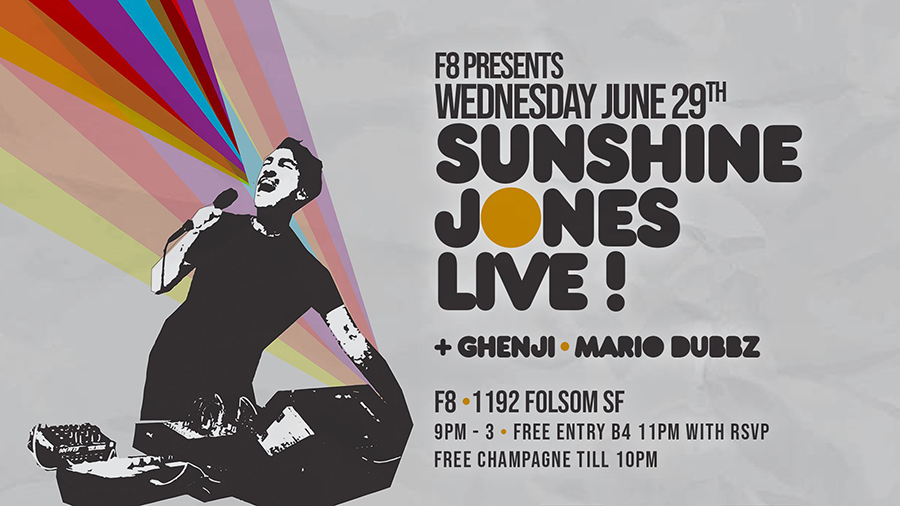 It's true, I rarely play at home. I do it that way so that it's special when I play. There's nothing quite like packing up a few things, maybe choosing some gear I might not normally bring (vintage, delicate, risky) and just drive across town and park, go in and set up for sound check, and then if I forgot something, or chicken out, I can just zip home and grab the cables I forgot or swap the modular for an SH-101, or the TR-8 for my TR-909 and head back before the club even opens. It's really a luxurious treat that I am really grateful for.
But what makes playing at home so wonderful, and I mean something to be deeply grateful for, is that it's the place where my worlds all collide. I am a member of various communities – I work with at-risk youth as a volunteer, I am a huge part of a community of people who seek to grow, and love and live free, I am a good and loving member of my neighborhood, and the greater community around me (not just the lower haight, but everywhere I go in San Francisco) and I have friends, dear ones, family and loves all over this town. And you're always asking me "when are you playing at home?" and I smile, and never tell you… hahahaha….
So now I'm telling you.
I am playing at F8 (a club on Folsom Street) on Wednesday the 29th of June.
I am playing late, so you might consider taking Thursday off, or choosing to work from home.
I wanna see all my friends, family, dear ones, compañeros, and companions in one filthy little room together at once.
So get a sitter, break up with that do-nothing, make your arrangements, tell your friends, and I'll see you there!
This is your chance this year to see me at home.
I can't wait!!!!
:)