Roland SYS-500 Updated Patch Sheet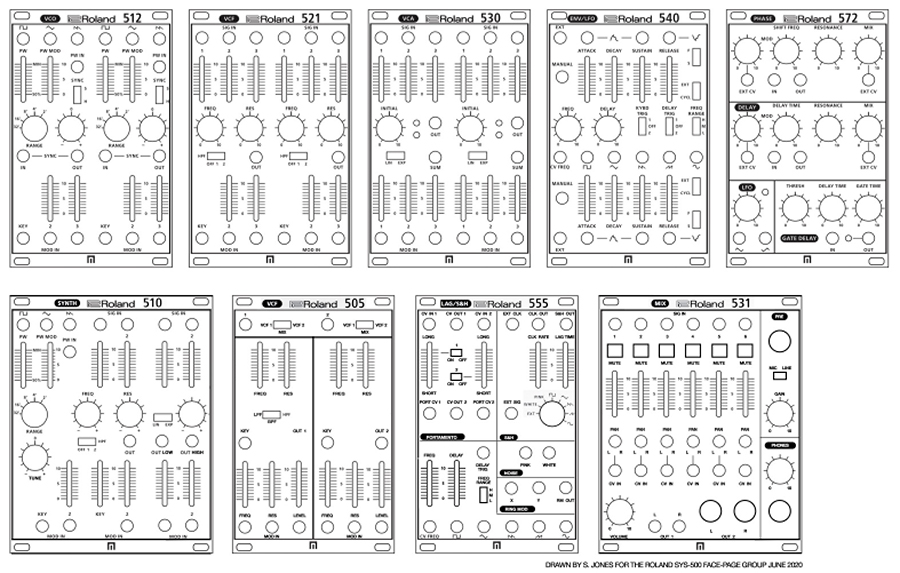 This morning I thought I'd make an effort to break from my usual modular habits and take a closer look at the Roland System 500 patch examples. I love the system 500. While it's definitely eurorack format, and each module is a separate module which can be included in any rack, how I experience it is as a proper analog synthesizer. When they are all assembled together in a case without distractions, the System 500 is, in no uncertain terms, the modern analog synthesizer that we've been asking for from Roland for twenty years.
Going through the patch book, I hate to admit it, but I was not particularly inspired. Searching for more examples to study, I virtually found nothing. So I turned to the System 500 face-page group and posted the available patch sheet and asked how the other members of the group felt about it. People seem to feel the same.
So I've created an updated patch sheet for other users to annotate and mark their favorite patches. I'm distributing it not only for free and open use, but also because I'd like to assemble a diverse patch book collected from System 500 lovers and make it available (for free of course.)
My ideas begin with using the Sys-500 as a base. I have set up a single oscillator SH-101 style instrument, an SH-2 style dual oscillator instrument, a TB-303 style synth, filter based tuned percussion, and solid kick drums. These will be included in the patch book.
DOWNLOAD ROLAND SYSTEM 500 UPDATED PATCH SHEET PDF | PDF FORMAT | 1.9MB PDF FILE
If you're game, download this sheet, print a few out and mark them up.
Send them to me, or join the face-page group and share them there and we'll all try them out.
The result, I hope, will be an interesting study for anyone interested in taking the System 500 further than the current set of ideas presented.