Roland JU-06 – The Missing Manual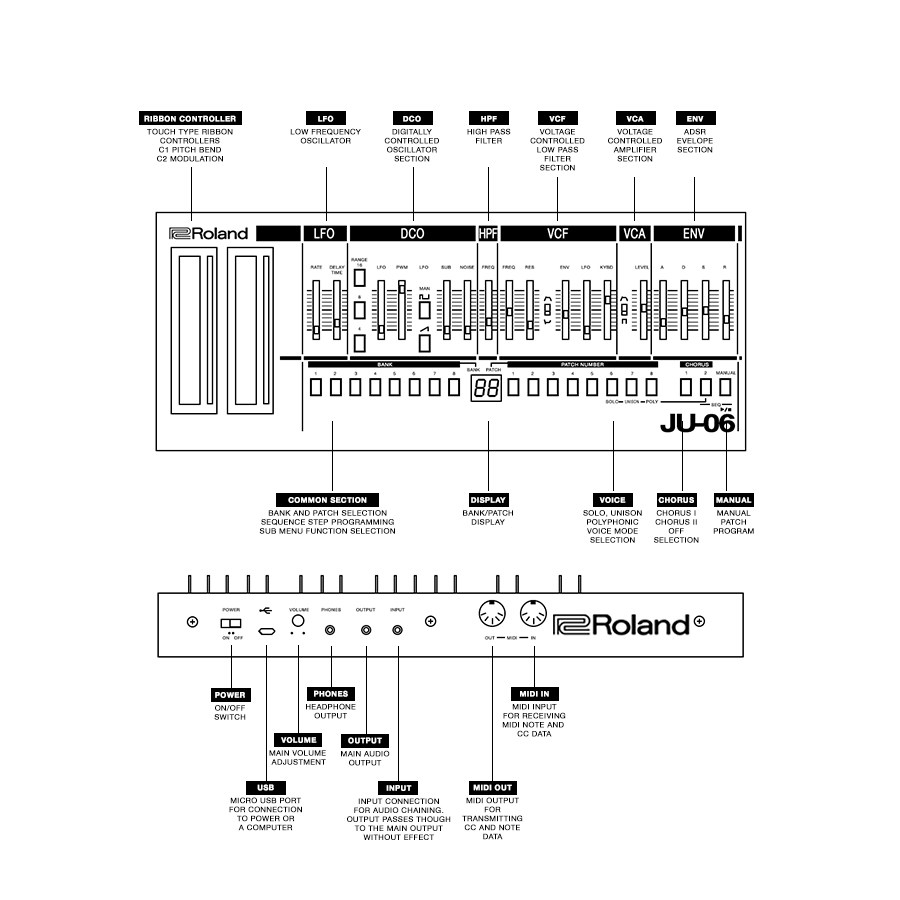 I love my JU-06. Despite much criticism by those who feel that only vintage synthesizers are valid, and others who are resentful that Roland are recycling the names of classic machines in modern instruments, I feel that the Roland Aira and Boutique line of synths are something very special.
On the one hand, it's really true, there's nothing like a real live TR-909, or an actual vintage Jupiter-8. Literally, there's nothing like them… they are iconic, singular, and wonderful. Further, most of these sought after, very expensive, and magnificent synths and drum machines were initially commercial failures. When the TR-808 came out no one wanted one. When the TB-303 came out people were so befuddled by the idea that this convoluted little computer box was in any way meant to "accompany" a guitarist for singer songwriter fun by the fire, that it was absurd. The box was so far ahead of its time that no one knew they needed it yet, and as the result, they were giving them away free with purchase. They were a commercial flop.
On the other hand, once something fails commercially the price goes way down. They turn up in the back of pawn shops, and second hand stores misunderstood and eventually forgotten. This sounds sad, but it's actually awesome. This is the democratization of technology. At a low price, and a low street value, these machines got into the hands of people who were able to explore them and produce music that perhaps the people who designed them hadn't even anticipated. Then it became the music and its impact on the world which brought these machines into focus, made them beloved, and inevitably expensive.
So I love the whole idea of the Roland Boutique line. They are re democratizing the TR-909, TB-303, Juno-106, Jupiter-8, JX-3P, VP-03, and potentially much more. These iconic and wonderful tools are again available to the people at a very affordable price. Consider that the street price of a JUNO-6 in 1982 was $1,299 and the street price of the JU-06 today is about $249. Granted there are only 4 voices instead of 6, but there's a sequencer, it is midi enabled, and a lot more going on in there. Plus… the best part… they sound fantastic.
Squinting at the leaflet that comes with the JU-06 the other day I asked myself two questions:
1. Why hasn't someone undertaken the re writing (or actual writing) of the manual for this synthesizer? For all the boutique synths?
2. Based on just how amazingly simple it is to backup, share, and load up patches, why on earth is there virtually no community resource or even a scrap of evidence on the web of people sharing their sounds for these machines?
I decided that because I love a good manual, and we are always telling you to RTFM (which stands for read the fucking manual) I should stop wondering why, and start putting pen to paper.
I began with the JU-06 because it's the easiest to draw. The manual taps the original JUNO-106 for style and illustration of how to use PWM, LFO, VCA and VCF but I've tried my best to maintain the integrity of both the classic manual format, as well as the modern instruction for how to do things.
I hope you re discover your JU-06 through this PDF and print it out and keep it at your side while you go through it and discover that the Roland Boutique JU-06 is a fantastic synthesizer with endless potential. Plus it's got knobs and it's modern, and it's right there in front of you!
A USER'S GUIDE TO THE ROLAND JU-06
THE MISSING MANUAL
DOWNLOAD
PDF FORMAT – Version 0.06C Updated 21 August 2017
If you happen to have a Roland Boutique JP-08 you're also in luck. I've re written and illustrated the user's manual for that as well. You can score that missing manual right here.
I have also included a bank of patches for you to play with.
SUNSHINE JONES – JU-06 DEMONSTRATION PATCHES
[BANK 8 PRESET 1-8]
DOWNLOAD
COMPRESSED ZIP ARCHIVE
LEGEND & PREVIEW
[BANK 8 – PATCH 1] JUNO TRI PAD
Listen
[BANK 8 – PATCH 2] JUNO SAW PAD
Listen
[BANK 8 – PATCH 3] JUNO KEYS
Listen
[BANK 8 – PATCH 4] JUNO SAW BASS MOD
Listen
[BANK 8 – PATCH 5] JUNO HOLLOW BASS
Listen
[BANK 8 – PATCH 6] JUNO HI HAT
Listen
[BANK 8 – PATCH 7] JUNO NOISE SNARE
Listen
[BANK 8 – PATCH 8] JUNO KICK
Listen
[PATTERN 16 – SAW BASS WOBBLE]
Listen
[PATTERN 15 – JUNO DOWN ARP]
Listen
Here's another set of sounds from Robtronik in Los Angeles
ROBTRONIK – JU-06 DEMONSTRATION PATCHES 2
[BANK 7 PRESET 1-8] [PATTERN 1-7]
DOWNLOAD
COMPRESSED ZIP ARCHIVE
[BANK 7 – PATCH 1] DANCING DOORS (Seq. 1)
[BANK 7 – PATCH 2] CREEPER SHOES (Seq. 2)
[BANK 7 – PATCH 3] ODE TO ST (Seq. 3)
[BANK 7 – PATCH 4] SABRETOOTH BASS (Seq. 4)
[BANK 7 – PATCH 5] ROUGH ACID (Seq. 5)
[BANK 7 – PATCH 6] TECHNO WEIRDO (Seq. 6)
[BANK 7 – PATCH 7] CHERRY BOTTOM BASS (Seq. 7)
[BANK 7 – PATCH 8] FILLER FLOOR
[PATTERN 1 – 7]
Please be sure to backup your existing patches before writing these to memory.
In the BACKUP folder the patches are numbered differently. Rather than Bank 1-8, they are named for their sequential placement in the midi program change protocol
ex: JU06_PATCH01 – JU06_PATCH64.
NOTE – Be sure you backup JU06_PATCH57 – JU06_PATCH64 and PATTERN BQ_PTN7 and BQ_PTN8 BEFORE you begin this exercise.
PROCEDURE:
In accordance with the new, clearly written manual on page 10, follow these instructions to backup your sounds before you begin.
1. Power up the JU-06 holding the BANK 2 button
2. Connect a USB cable between the JU-06 and your computer
3. A little drive should apprear on your desktop named JU-06
4. Within this drive you will find two folders:
1. BACKUP
This contains all your sounds and sequences
2. RESTORE
This is where you drop files in order to load them into your JU-06
5. Create a backup folder for your sounds, and drop them all onto it and copy them over to your desktop.
This is in case something goes wrong, or it get's all messed up, or weird, you can always just go back.
HOW TO COPY THE NEW FILES TO YOUR JU-06:
1. Follow the procedure above for mounting the JU-06 to your desktop.
2. Copy the contents of the BANK 8 folder you downloaded from me into the RESTORE folder.
3. Eject the JU-06 drive
4. On the JU-06 Module – Press MANUAL
Lights will bllink and things will happen.
5. When the lights stop blinking the screen should say OK.
6. Power cycle your JU-06
7. Press BANK 8 and PATCH 8
Play a note. This should be the kick patch I gave you.
Refer to the legend above to see what I was attempting to create, and enjoy, modify, or discard these patches. They are yours to do with what you will. The idea here was not to style you out with some amazing freebies, but rather to engage you with your own equipment, and show you just how easy it is to save, backup, and share patches for these amazing little synthesizers. I hope you dig it, and are already planning a huge patch swap in the very near future.
Enjoy the manual, and the sounds. I hope they inspire you half as much as it has inspired me to re write it, and to illustrate it.
LOVE