JP-08 – The Missing Manual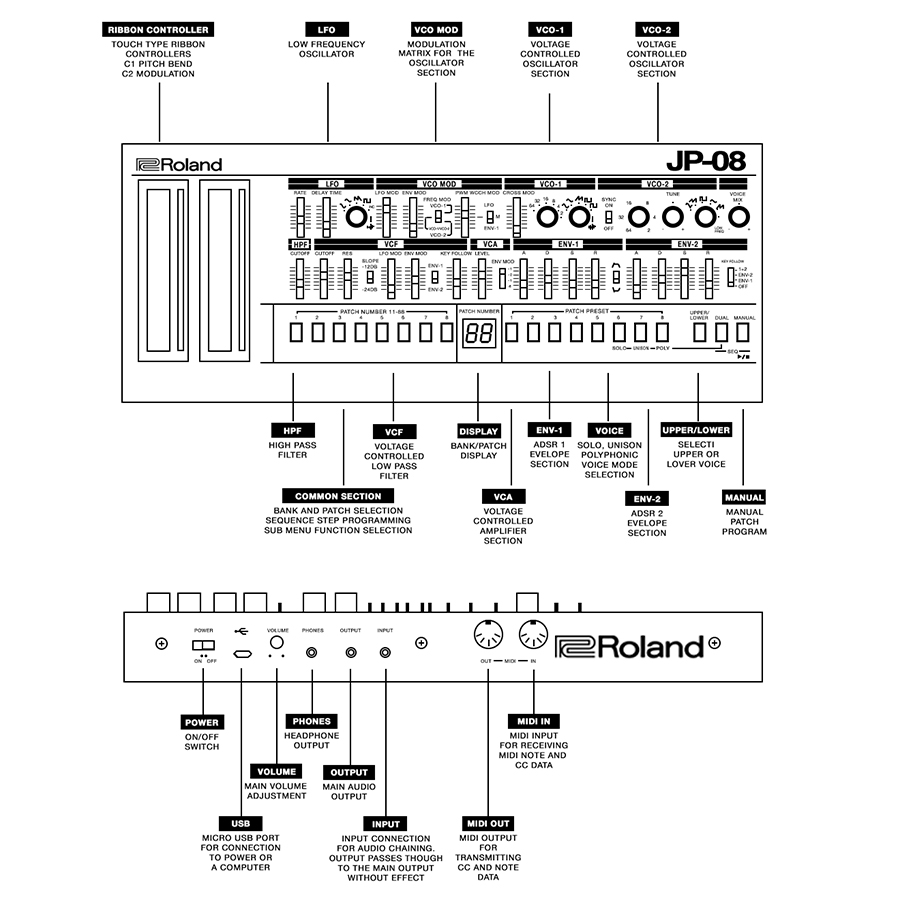 The minute I illustrated and re wrote up the missing manual for the JU-06 available with some patches hoping to encourage people to get deeper into their Roland Boutique modules, people began asking me to produce something similar for the JP-08 and the JX-03. I love a good technical illustration, and I really love a deep read of a vintage synthesizer manual, so I've produced the missing manual, a user's guide to the JP-08.
It's the same basic idea as before – Take the leaflet that comes with the Boutique synth and all of its specifics, and combine it with the language for sound design from the original manual for the classic synthesizer, and then illustrate it. I've done just that, and so be aware that the language in the original Jupiter-8 manual is a little dated. I love it… but it may not be as direct and straight forward as you might have expected. That said, all the functions, key combinations, utilities, effects, and the sequencer operations are clear as a bell. I've even got lovely midi charts, and patch note pages for your patch programs, and for you bank arrangements too.
Don't be dissuaded, there's a lot there. Reading this manual will help to understand how the LFO functions, and how interesting it can be to Modulate the VCO, as well as what a weirdo blast it can be to combine VCO's in different ways. I think if you read up, and follow along your JP-08 will really surprise you.
A USER'S GUIDE TO THE ROLAND JP-08
THE MISSING MANUAL
DOWNLOAD
PDF FORMAT – Version 0.01D Updated 13 January 2018 (minor midi cc correction)
I have also included a bank of patches for you to play with in order to see how easy patch sharing can be, and also to discover how amazing this chorus feature is.
SUNSHINE JONES – JP-08 DEMONSTRATION PATCHES
[BANK 8 PRESET 1-8]
DOWNLOAD
COMPRESSED ZIP ARCHIVE
LEGEND & PREVIEW
[BANK 8 – PATCH 1] JUPITER STRINGS (no chorus)
Listen
[BANK 8 – PATCH 2] JUPITER STRINGS (chorus 1)
Listen
[BANK 8 – PATCH 3] STELLA PAD
Listen
[BANK 8 – PATCH 4] JUPITER E PNO
Listen
[BANK 8 – PATCH 5] SAMPLE & HOLD CHORD/BASS
Listen
[BANK 8 – PATCH 6] JUPITER HI HAT
Listen
[BANK 8 – PATCH 7] JUPITER NOISE SNARE
Listen
[BANK 8 – PATCH 8] JUPITER KICK
Listen
JASON WILLIAMS (aka Velocette) – JP-08 PATCHES
[BANK 7 PRESET 1-8]
DOWNLOAD
COMPRESSED ZIP ARCHIVE
LEGEND & PREVIEW
[BANK 7 – PATCH 1] IR3109 Chords
[BANK 7 – PATCH 2] Endless
[BANK 7 – PATCH 3] Random Malfunction
[BANK 7 – PATCH 4] Ghidora
[BANK 7 – PATCH 5] Rubber Ducky
[BANK 7 – PATCH 6] Singles & Doubles
[BANK 7 – PATCH 7] Trill
[BANK 7 – PATCH 8] Late Bloomer
[Bank Specific Settings] Enable Glide (DUAL + C1 and DUAL + C2) for best results
Please be sure to backup your existing patches before writing to memory.
In the BACKUP folder the patches are numbered differently. Rather than Bank 1-8, they are named for their sequential placement in the midi program change protocol
ex: JP08_PATCH01 – JP08_PATCH64.
NOTE – Be sure you backup JP08_PATCH57 – JP08_PATCH64 and PATTERN BQ_PTN7 and BQ_PTN8 BEFORE you begin this exercise.
PROCEDURE:
In accordance with the new, clearly written manual on page 10, follow these instructions to backup your sounds before you begin.
1. Power up the JP-08 holding the PATCH 2 button
2. Connect a USB cable between the JP-08 and your computer
3. A little drive should apprear on your desktop named JP-08
4. Within this drive you will find two folders:
1. BACKUP
This contains all your sounds and sequences
2. RESTORE
This is where you drop files in order to load them into your JP-08
5. Create a backup folder for your sounds, and drop them all onto it and copy them over to your desktop.
This is in case something goes wrong, or it get's all messed up, or weird, you can always just go back.
HOW TO COPY THE NEW FILES TO YOUR JP-08:
1. Follow the procedure above for mounting the JP-08 to your desktop.
2. Copy the contents of the BANK 8 folder you downloaded from me into the RESTORE folder.
3. Eject the JP-08 drive
4. On the JP-08 Module – Press MANUAL
Lights will bllink and things will happen.
5. When the lights stop blinking the screen should say OK.
6. Power cycle your JP-08
7. Press PATCH 8 and PATCH 8 (for PATCH 88)
Play the C1 note on your keyboard. This should be the kick patch I gave you.
Refer to the legend above to see what I was attempting to create, and enjoy, modify, or discard these patches. They are yours to do with what you will. The idea here was not to style you out with some heart stopping freebies to make me look cool, but rather to engage you with your own equipment, and show you just how easy it is to save, backup, and share patches for these amazing little synthesizers. I hope you dig it, and are already planning a huge patch swap in the very near future.
Enjoy the manual. I hope this helps you get to know your JP-08 from a new perspective, and you get deeper and deeper into it and more sound and joy out of it.
LOVE