Sunshine Jones – February 12th – Asheville NC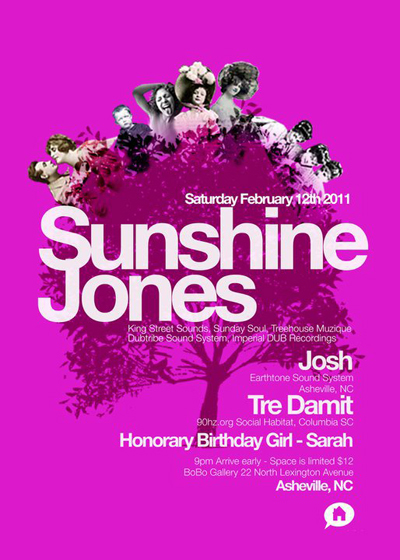 SUNSHINE JONES-San Francisco, CA House Legend
King Street, Treehouse Muzique, Sunday Soul, Imperial DUB Recordings, Dubtribe Sound System
…This man was Dub before Dub was Dub….as on half of the duo Dubtribe, he created some of the most memorable house music anthems of the last decade. Songs that were driven by the bassline and infused with the spirit of Dub reggae. Now as a solo artist, he continues to advance the sound of bass-fueled house music with releases on his Treehouse Muzique label. Playing live for his Sunday Soul show on 90hz.org, he brings the San Frandisco house sound to EDM lovers worldwide, so you may get a preview of what's in store for this night.
JOSH – Asheville,NC
Earthtone Soundsystem
Bio info coming soon.
TREDAMIT – Columbia,SC
90hz.org, Social Habitat
It seemed like yesterday when in the early 90's Tre was reborn to become a part of the house music scene in the southeast, his passion for music,dance and production brought him face to face with some of the greatest names in dance music. It is his tireless efforts in finding an eclectic mix of sounds and tracks has molded and shaped who he is as a dj today . Tre with roots in rock,reggae,punk metal,soul,disco,new wave and hip hop patiently waited for his muse to inspire him to play , and when he did that's when the flood of countless dance floors,dj's,club nights and all his influences came rushing forward to inspire him to bring the sound you hear from him today.