Sunshine Jones – February 11th – Raleigh NC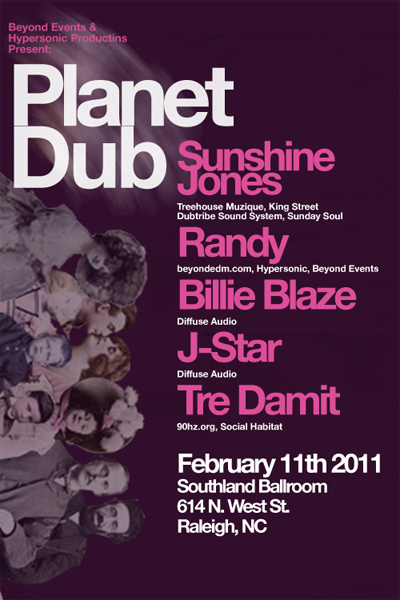 PLANET DUB At Southland Ballroom
SUNSHINE JONES-San Francisco House Legend
King Street, Treehouse Muzique, Sunday Soul, Imperial DUB Recordings, Dubtribe Sound System
This man was Dub before Dub was Dub….as on half of the duo Dubtribe, he created some of the most memorable house music anthems of the last decade. Songs that were driven by the bassline and infused with the spirit of Dub reggae. Now as a solo artist, he continues to advance the sound of bass-fueled house music with releases on his Treehouse Muzique label. Playing live for his Sunday Soul show on 90hz.org, he brings the San Frandisco house sound to EDM lovers worldwide, so you may get a preview of what's in store for this night.
also:
Randy-BeyondEDM.com, Hypersonic, Beyond Events
Since 1994, as Hypersonic Productions, he developed the Carolina rave scene into one of the largest and most respected places in the world for electronic dance music. His groundbreaking BEYOND series of events at The Millenium Center in Winston-Salem, NC gathered thousands of electronic music devotees from all over America together in one of the most unique venues on the East Coast. Dj'ing since 1987, his sets wander effortlessly between Latin, minimal, acid and techno.
Billie Blaze-Diffuse Audio
With over 17 years in the underground scene, Billie Blaze is no stranger to techno! Melding together Hard Techno, Acid, Broken Beat and a smidge of Techno / Tech House, he is sure to destroy any dancefloor. Completely self-taught, there is no aspect of the scene that he has not touched, from dj to producer, promoter to record store owner, production manager to DIY synth engineer.
J-Star-Diffuse Audio
With over 15 years in the EDM community, J-star will get your body moving with her signature style of driving techno that flirts with the hard and the dark. In just a few short years J-star has quickly become a force to be reckoned with on the decks. Partnering with husband Billie Blaze, she co-found the Diffuse Audio collective with the goal of bringing like-minded EDM connoisseurs together to bring underground EDM to the masses.
Tredamit-90hz.org, Social Habitat
It seemed like yesterday when in the early 90's Tre was reborn to become a part of the house music scene in the southeast, his passion for music,dance and production brought him face to face with some of the greatest names in dance music. It is his tireless efforts in finding an eclectic mix of sounds and tracks has molded and shaped who he is as a dj today . Tre with roots in rock,reggae,punk metal,soul,disco,new wave and hip hop patiently waited for his muse to inspire him to play , and when he did that's when the flood of countless dance floors,dj's,club nights and all his influences came rushing forward to inspire him to bring the sound you hear from him today.
This event will take place at:
Southland Ballroom
614 N West St
Raleigh, NC 27603-1310
(919) 821-0023
www.southlandballroom.com
This exciting venue has a crushing bass intensive sound system with wonderful clarity. A full bar is available for those 21+ with proper ID, and 18+ are admitted with proper ID.
$10/adv ticket link up shortly….