Bélle Âme Électronique
Out now on King Street/Nite Grooves
After a long and wonderful journey, my third solo album is finally released.
You can buy it on iTunes, or at Beatport, or anywhere you purchase music.
Here's the press release from King Street
There's nothing more beautiful than being at peace with the life you live and the life that surrounds you. Music has the same effect at times. The joy that you get from a lo-to-mid tempo beat, the power of an almighty funky plucking rolling baseline, and inspirational lyrics just soothe the soul. Fuse those sounds with one of the most uniquely sensual male voices in Deep House Music and you have the latest album by Dubtribe Sound System's, Sunshine Jones. Ame Electronique is more than electronic love, it's the electronic music you want to make love to. A perfect 10 track collection starting off with soothing ambient sounds to get you relaxed & in the mood, followed by a cool easy funky "I Got Your Back," with guest vocal by Aridadne Thompson. The album's synthetic ebb & flo-play continues with "Four Million" and the full seductive sermon in "I Can Feel Warm Sun On My Face." The groove continues with "While You Were Sleeping" with guest female spoken word by Carmen Martinez who offsets Sunshine's synth-demonized vox. "We Are What We Are" ramps up the energy a bit & "Come To Me" has one of the most irresistible hypno-grooves out there. "Dirty Love" is up next which is the lead single off the album already being remixed by Aki Bergen, Louie Fresco & others. The pretty & mellow "Fill Up My Heart" follows and it's all capped off by "Exit – Ocean Beach Waves," complimenting this album with some of the most beautiful sounds on the planet.
KSD 205
Sunshine Jones
Belle Ame Electronique
Worldwide Release Date: November 11, 2012
Also available and out now: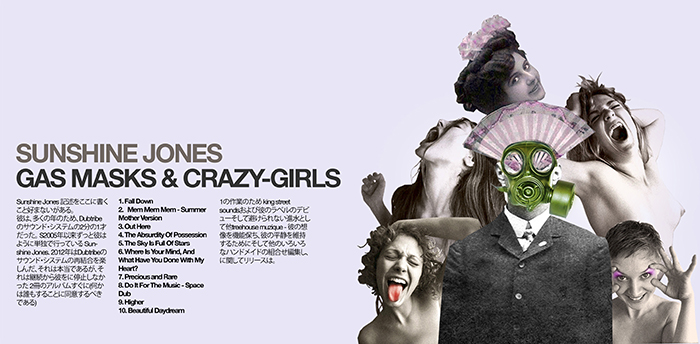 Gas Masks & Crazy-Girls
Also available from Cosmic Disco – Released September 9th 2012
Buy it now from iTunes, beatport or any of your favorite online record shops.