Sunday Soul: Vishuddha: December 9th 2007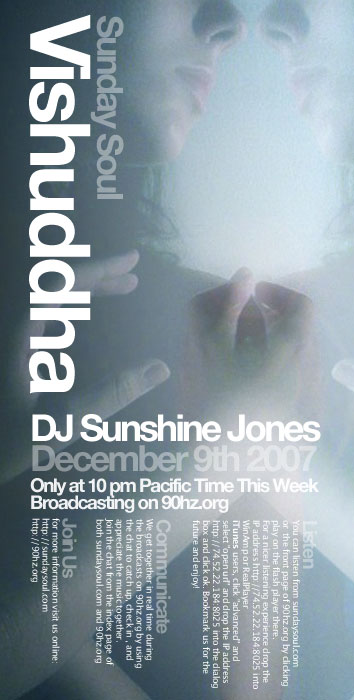 Sunday Soul: Vishuddha
December 9th 2007
Broadcasting at 10pm Pacific time only this week
To listen:
You can listen from the listen link at sundaysoul.com by clicking play on the flash player there. It's a pop up window so you can continue to browse the web while you're listening if you want to.
For a nicer listening experience, drop the IP address
http://74.52.22.184:8025
into WinAmp or RealPlayer
iTunes Users: click "advanced" and select "open url"drop the IP address:
http://74.52.22.184:8025 into the dialog box and click ok.bookmark us for the future and enjoy!
To Communicate:
We get together in real time during all the shows on 90hz.org and use the chat to catch up, ask questions, check in and appreciate the music together. You can join the chat from either 90hz.org or right here from the menu above.
Join Us!