Sunday Soul: invincible: November 30th 2008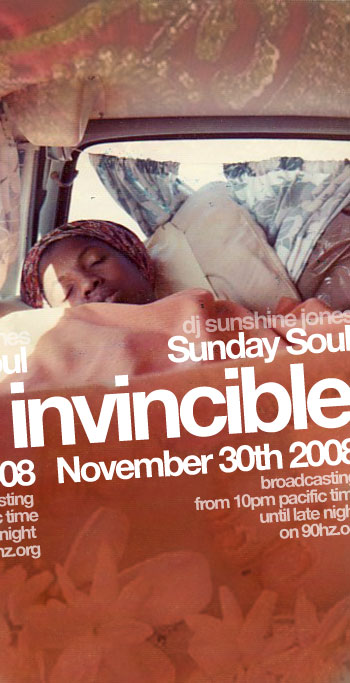 In the church of my heart
the choir is on fire!
Listen without armour:
At 10pm in San Francisco (which is 1am in Manhattan, and a bad breath 6am in London) you can head over to http://90hz.org and click the big play button.
For a little bit more of a sophisticated listening experience you can grab the 90hz IP address and drop it into iTunes, or WinAmp or WMP or however you listen to inter-web audio and rock it like that.
Easy.
Embrace your path:
We get together in the chat at 90hz. We are a tight group of friends, we talk seriously, and freely. It's nice if you're up for that. It might be weird if you're not.
To join in the dialog, sign up for the 90hz forum and then click the "chat" link from anywhere on 90hz.org and come on in.
Know in your heart:
Sign up for the 90hz.org mailing list. We never ever share our email list with a single solitary soul. You opt in, and you opt out. It's up to you completely.
Head over to 90hz.org and make the decision for yourself.
Join us!