Sunday Soul: I move to the rhythm of your heartbeat: June 29th 2008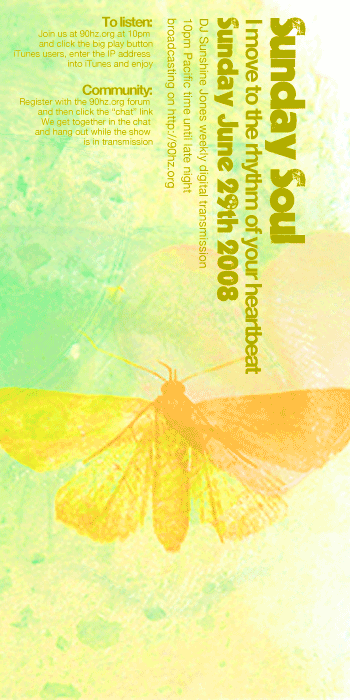 you are my reflection
so here i stand with you in mind
and anytime someone smiles at me or gives me warmth
i know that you are here
you are my sears portrait with no sitting fee
no time to rest when the world is at its knees
no time to make appointments
no time to take notice
no waiting for your name to be called
i move to the rhythm of your heartbeat
To Listen:
Visit 90hz.org at 10pm pacific time
-8 GMT | -3 EST
And click on the big play button
iTunes listeners can drop the IP address into the advanced menu and listen from there.
Community:
Register with the 90hz forum and then click the "chat" link.
We gather and commune together while the broadcast is in transmission, live.
Join us!