Sunday Soul: HOLLOW INSIDE: November 2nd 2008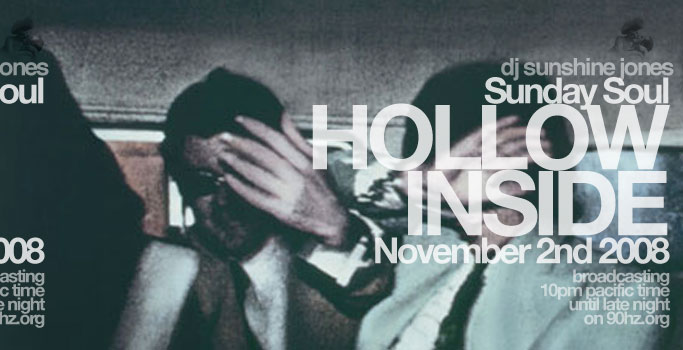 What can't they be? Was that yellow one,
lying there hollow and open, not the rind
of a fruit in which the very same yellow
was its more intense and darkening juice?
And was this other undone by its opening,
since, so exposed, its ineffable pink
has picked up lilac's bitter aftertaste?
And the cambric, is it not a dress
to which a chemise, light and warm as breath,
still clings, though both were abandoned
amid morning shadows near the old woodland pool?
And this of opalescent porcelain
is a shallow fragile china cup
full of tiny shining butterflies —
and there — that one's holding nothing but itself.
Eavesdrop:
At 10pm in San Francisco (which is 1am in Manhattan, and a bad breath 6am in London) you can head over to http://90hz.org and click the big play button.
For a little bit more of a sophisticated listening experience you can grab the 90hz IP address and drop it into iTunes, or WinAmp or WMP or however you listen to inter-web audio and rock it like that.
Easy.
Read Over Our Shoulders:
We get together in the chat at 90hz. We are a tight group of friends, we talk seriously, and freely. It's nice if you're up for that. It might be weird if you're not.
To join in the dialog, sign up for the 90hz forum and then click the "chat" link from anywhere on 90hz.org and come on in.
Let Me Send You Love Letters:
Sign up for the 90hz.org mailing list. We never ever share our email list with a single solitary soul. You opt in, and you opt out. It's up to you completely.
Head over to 90hz.org and make the decision for yourself.