Sunday Soul: 124: May 18th 2008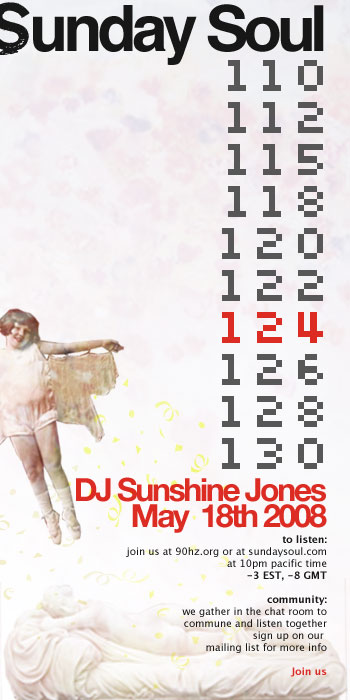 To listen:
You can listen from the listen link at 90hz.org by clicking play on the big huge flash player at the top of the page.
For a nicer listening experience, drop the IP address
http://74.52.22.184:8025
into WinAmp or RealPlayer
iTunes Users: click "advanced" and select "open url"drop the IP address:
http://74.52.22.184:8025
into the dialog box and click ok.bookmark us for the future and enjoy!
To Communicate:
We get together in real time during all the shows on 90hz.org and use the chat to catch up, ask questions, check in and appreciate the music together. You can join the chat from the top menu, or the big "join us" button over at 90hz.org.
You must be registered to join the chat. We have a new, and delightful chat-device at 90hz.org, and in order to make use of it, you must first register in the forums there. The login will be automatic, and hassle free as long as you receive the registration email.
Join Us!