Roland Boutique JX-03 – The Missing Manual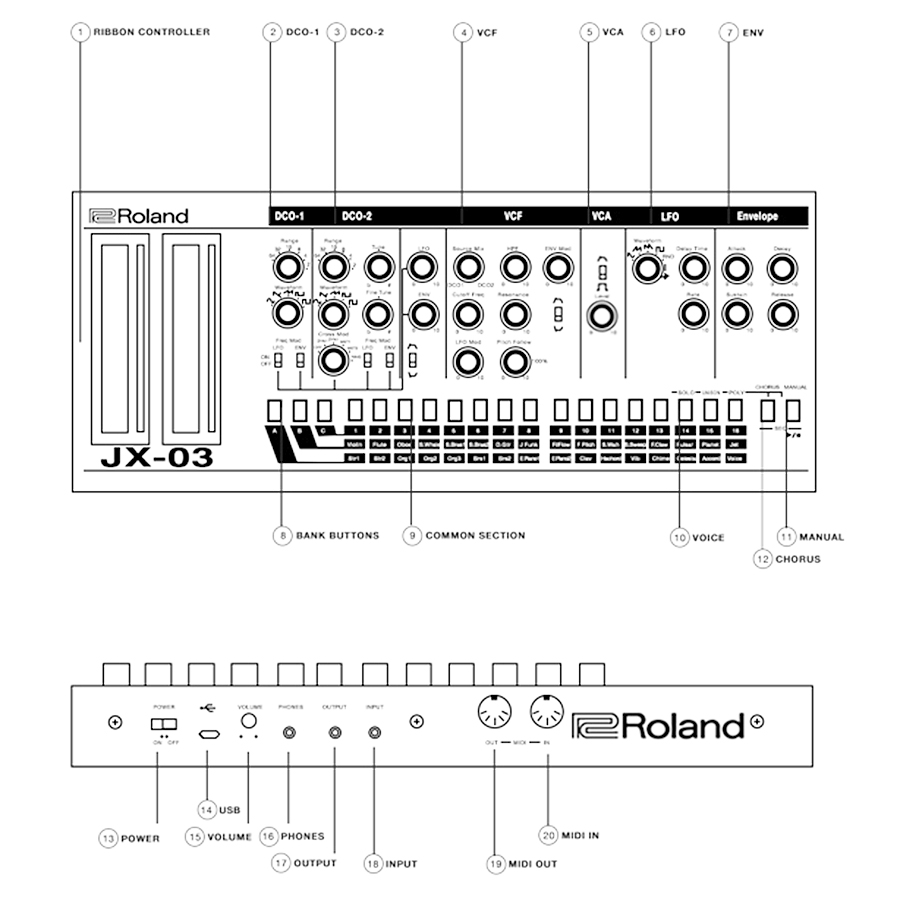 I've really enjoyed re writing the manuals for the JP-08, the JU-06 and the JX-03. Everything about it. Reading the original manuals, deciphering the modern leaflets, cross referencing for the differences between devices, making the technical diagrams and drawings, programing the sounds, and talking with people about their boutique synths. I have fallen completely back in love with there marvelous little boxes.
I present you now with the last in the series: The Missing Manual for the Roland Boutique JX-03 Synthesizer. The JX3P was a frustrating synth for me. It was one of my first Roland Keyboards, and while I knew the Juno-6 so well, I did not have the PG-200 to program the JX. So it was a struggle, and I felt really discouraged until I finally stumbled upon a programmer. Then it unlocked doors which completely changed my mind about the entire MKS series, the idea of satellite programers, and more.
A USER'S GUIDE TO THE ROLAND JX-03
THE MISSING MANUAL
DOWNLOAD
PDF FORMAT – Version 0.02a Updated 4 Dec 2022
I have also included a bank of patches for you to play with in order to see how easy patch sharing can be, and also to discover how amazing this chorus feature is.
SUNSHINE JONES – JX-03 DEMONSTRATION PATCHES
[BANK C PRESET 1-8]
DOWNLOAD
COMPRESSED ZIP ARCHIVE
LEGEND & PREVIEW
[BANK C – PATCH 1] MARIANA
Listen
[BANK C – PATCH 2] AUTOCHORDER
Listen
[BANK C – PATCH 3] LAWRENCE
Listen
[BANK C – PATCH 4] JX-ARP
Listen
[BANK C – PATCH 5] HARMONIUM
Listen
[BANK C – PATCH 6] MOTHER
Listen
[BANK C – PATCH 7] METRO BASS
Listen
[BANK C – PATCH 8] SUNSHINE'S RHODES
Listen
Please be sure to backup your existing patches before writing to memory.
In the BACKUP folder the patches are numbered differently than the other Boutique synths. For the JX-03 they are actually numbered 1-16 and the patterns are as well.
ex: JX03_PATCH1 – JX03_PATCH16
There are also a lot fewer files to worry about as the JX-03 only offers one user bank to write patches into.
NOTE – Be sure you backup JX03_PATCH1 – JX03_PATCH8 BEFORE you begin this exercise.
PROCEDURE:
In accordance with the new, clearly written manual on page 10, follow these instructions to backup your sounds before you begin.
1. Power up the JX-03 holding the PATCH 2 button
2. Connect a USB cable between the JX-03 and your computer
3. A little drive should apprear on your desktop named JX-03
4. Within this drive you will find two folders:
1. BACKUP
This contains all your sounds and sequences
2. RESTORE
This is where you drop files in order to load them into your JX-03
5. Create a backup folder for your sounds, and drop them all onto it and copy them over to your desktop.
This is in case something goes wrong, or it get's all messed up, or weird, you can always just go back.
HOW TO COPY THE NEW FILES TO YOUR JX-03:
1. Follow the procedure above for mounting the JX-03 to your desktop.
2. Copy the contents of the PATCH folder you downloaded from me into the RESTORE folder.
3. Eject the JX-03 drive
4. On the JX-03 Module – Press MANUAL
Lights will blink and things will happen.
5. When the lights stop blinking everything should be OK.
6. Power cycle your JX-03
7. Press BANK C and PATCH 8 (for USER PATCH 8)
Play a note on your keyboard. This should be the Rhodes patch I gave you.
Refer to the legend above to see what I was attempting to create, and enjoy, modify, or discard these patches. They are yours to do with what you will. The idea here was not to style you out with some heart stopping freebies to make me look cool, but rather to engage you with your own equipment, and show you just how easy it is to save, backup, and share patches for these amazing little synthesizers. I hope you dig it, and are already planning a huge patch swap in the very near future.
I hope you enjoy these manuals. I hope they inspire you half as much as it has inspired me to make them for you.
LOVE