JX-08 The Missing Manual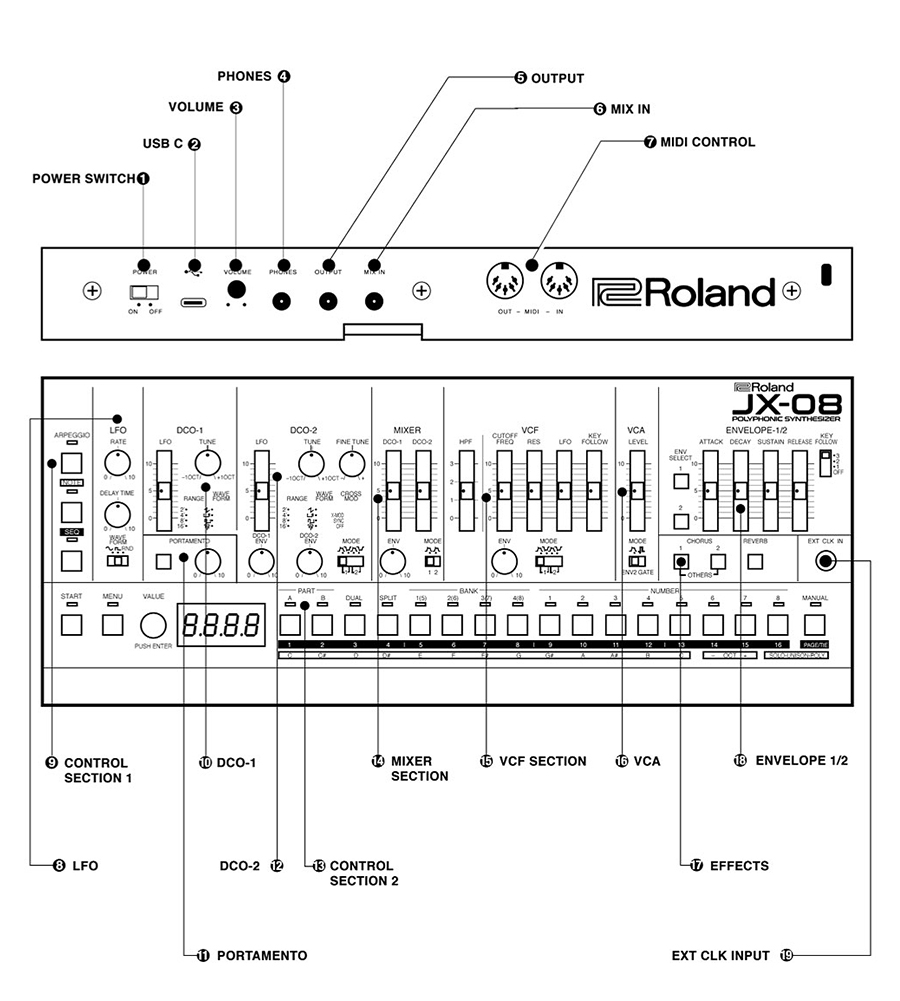 Here is the missing manual for the Roland Boutique JX-08!
I started making these PDF versions for us back when the first three were released (JP-08, JU-06, and JX-03) because the leaflets that came with them weren't enough to inspire me, I wanted more. So I illustrated them with my own line art (rapidographs, tape, rulers, and x-acto knives) and created printable documents which I could use beside my little traveling companions to make the most of them as I learned to use them.
A few years later I am still making manuals for us. I think they're improved, and hopefully are of real use to people. I love manuals, of course that doesn't mean I always read them, but using them as a companion to any piece of gear has really helped me learn, and grow as a musician. Making these manuals had done that even more so.
A USER'S GUIDE TO THE ROLAND JX-08 SOUND MODULE
THE MISSING MANUAL
DOWNLOAD
PDF FORMAT – Version 0.01A – Feb/March 2022
This is version 1.0A so chances are there are typos, or revisions will be needed assuming firmware updates come along and things are sorted out or added, but I wanted to say that I really like this boutique. The Roland Boutique line have become essential synths for me on the road. I will never travel with my analog gear, I love it too much to do that to it, and it's been really nice to play 100% live and to be able to bring so much gear with me, and not have to risk the health and well being of my beloved synth collection.
This manual is an assemblage of the completely missing manual from Roland (there is an online reference guide) the quick start PDF, and various other sources of information, but mostly it is a collection of my own discoveries as I went through every single menu, function, and option for this synth. I learned a lot, and discovered some things.
It's my pleasure to do this for my community, but I don't do this for money, I don't take requests, and I currently don't have any plans to score any more Boutiques. So if I've happened to produced a manual, then it will be in my non-fiction section here. If I haven't, and you really need one, I encourage you to make your own.
I've really enjoyed this adventure so far.
With Love,
Sunshine